Gold Jumps as Inflation Data Weakens U.S. Dollar
Posted on
— Leave a comment
Precious metals investors saw a nice lift to their portfolio last week. The price of gold jumped 1.8% following new economic reports signaling that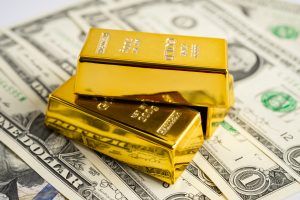 Gold bar on US dollar banknotes money, economy finance exchange trade investment concept. inflation is easing. That in turn weakened the U.S. dollar, which fell to its lowest level since April 2022 last week and also triggered expectations that the Federal Reserve may not have to raise interest rates as much as previously expected.
Spot gold climbed above $1,961 an ounce last week, hitting its highest level since early June.
The inflation report revealed that Consumer Price Index inflation rose 0.2% in June, and was up 3% from a year ago, the lowest level since March 21. Excluding food and energy, however, CPI inflation remained elevated with the core rate up 0.2% at a 4.8% year-over-year rate.
The drop in headline inflation spurred expectations that the Federal Reserve may not have to be as aggressive in continuing interest rate hikes as previously expected. That boosted gold as it removes some of the opportunity cost of holding gold, which doesn't provide an interest rate.
Also fueling the strength in both gold and silver was fresh weakness in the U.S. dollar, which has been trending lower for the past nine months. A weaker dollar tends to support gold as the precious metal is bought and sold in U.S. dollars around the globe, which makes it less expensive for foreign buyers.
Gold Outperforming Stocks and Bonds
Overall, precious metals continue to deliver solid diversification and returns for bullion holders. In fact, gold is beating both U.S. stocks and bonds in July.
"So far this year, once again, you've been better off in a portfolio of 60% stocks, 30% bonds and 10% gold than in just 60% stocks and 40% bonds," wrote Brett Arends in a July 14 MarketWatch article.
Bottom Line
Even though inflation is coming down, gold prices are still rising and investors remain bullish on the yellow metal in the near term. The latest Kitco Gold survey revealed that 61% of Main Street investors expect gold to increase this week.
Bigger picture, with expectations that the Fed may need to cut interest rates in 2024 that would allow gold to move even higher as the Fed's interest rate hiking campaign has been a factor artificially holding gold back over the past year.
Want to read more? Subscribe to the Blanchard Newsletter and get our tales from the vault, our favorite stories from around the world, and the latest tangible assets news delivered to your inbox weekly.