Guess Who's Taking A Position In Gold Now?
Posted on
— 2 Comments
The list of venerable Wall Street firms, hedge fund managers and billionaires who are betting big on gold in 2020 is nothing new. But this is.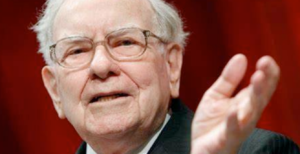 Stop the presses!
Warren Buffett's Berkshire Hathaway Inc. just announced a $565 million stake in Barrick Gold Corp. – the world's second largest gold miner.
Why is this big news?
Historically, Buffett has said he doesn't favor gold investment plays.
Apparently, 2020 is different. But, we all knew that already.
All across the globe – investors big and small are participating in one of the most historic moves into precious metals – which saw gold soar to a new all-time record high at $2,070 earlier this month.
Listen to what one billionaire said in January – before the pandemic hit.
At the World Economic Forum in Davos, Switzerland, earlier this year, Ray Dalio, founder of Bridgewater Associates, said investors should hold a global diversified portfolio that includes gold. "Cash is trash," he said. He warned that investors should get out of cash as central banks continue to print money.
When it comes to a store of value, central banks will continue to prefer to hold hard assets, he noted. "What are [central banks] going to hold as reserves? What has been tried and true? They are going to hold gold. That is a reserve currency, and it has been a reserve currency for a thousand years," Dalio said.
Fast forward, into the Covid crisis and Dalio's fund has furiously been adding gold to their holdings.
Billionaire Ray Dalio's hedge fund Bridgewater & Associates bought more than $400 million in gold in the second quarter of this year!
Earlier this year, Dalio told Bloomberg that investors would be "pretty crazy to hold bonds" in this period. "If you're holding a bond that gives you no interest rate, or a negative interest rate, and they're producing a lot of currency and you're going to receive that, why would you hold that bond?" Dalio said.
Another billionaire bond investor Jeffrey Gundlach – the CEO of $135 billion DoubleLine Capital believes that gold prices will go higher in the long-term.
Gundlach pointed to the U.S. budget deficit, which exploded higher this summer because of coronavirus stimulus packages
"If we are going to continue that type of a pace, we'd be looking at over 50% of GDP in terms of the budget deficit, which is getting almost surreal in terms of what's happening," Gundlach added.
"Gold will ultimately go much higher because I think the dollar's going to go much lower," Gundlach said.
Who else is recommending gold right now?
In July, Goldman Sachs increased their 12-month forecast in gold to $2,300 an ounce.
The recent surge in gold prices to new all-time highs has substantially outpaced both the rise in real rates and other US dollar alternatives, like the Euro, Yen and Swiss Franc," Goldman analysts wrote.
"We believe this disconnect is being driven by a potential shift in the US Fed towards an inflationary bias against a backdrop of rising geopolitical tensions, elevated US domestic political and social uncertainty, and a growing second wave of COVID-19 related infections," according to a Goldman Sachs research note to clients. "With more downside expected in US real interest rates, we are once again reiterating our long gold recommendation from March and are raising our 12-month gold and silver price forecasts to $2300 an ounce."
In April, Bank of America raised its 18-month forecast in gold to $3,000 an ounce citing the zero interest rate environment in the U.S. as a key driver for higher gold. The size of major central bank balance sheets has been stable at 21 to 28% of GDP in the past decade just like the gold price," analysts Michael Jalonen and Lawson Winder wrote. "As central banks and governments double their balance sheets and fiscal deficits we up our 18m gold target from $2000 to $3000/oz."
Other major global banks have also jumped on the gold bandwagon.
Swiss bank – UBS said this: "We're bullish on gold and have been adding it into our managed portfolios in recent weeks," a UBS team led by Kiran Ganesh wrote.
While gold has retreated in a correction phase – after setting a new all-time record high at $2,070 earlier this month, the rally is far from over.
While gold has taken a breather, Manpreet Gill, head of fixed income, currencies and commodities at Standard Chartered told CNBC's "Street Signs Asia" "We think gold's run … hasn't quite finished yet."
"It comes back to interest rates. One of the best explanations of why gold has surged the way it has through this year have been bond yields," Gill said.
He said it is "ultimately a great environment" for gold assuming central banks continue to keep bond yields low, quoted in an Aug. 18 Business Insider story.
Wall Street's best and brightest minds remain bullish on the outlook for gold ahead. Do you own enough?
Want to read more? Subscribe to the Blanchard Newsletter and get our tales from the vault, our favorite stories from around the world and the latest tangible assets news delivered to your inbox weekly.