Between now and Election Day, we present to you an in-depth Blanchard exclusive Presidential Election series. Please join us each week as we cover six hypothetical scenarios and detail potential outcomes for the economy, geopolitics, the stock market and precious metals if these scenarios unfold. We invite your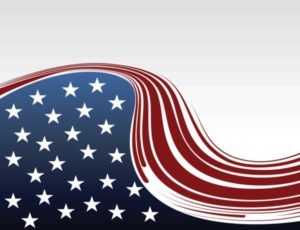 comments, questions and insights below in this interactive event.
Read Part 1 here: "What happens if…." Trump Wins in a Landslide
The Blue Sweep
Election Day 2020. It's Tuesday evening November 3rd.
7:00 pm ET. The polls are just beginning to close in a couple of states. Network news announcers quickly report that Trump won Kentucky and South Carolina. However, Biden has a commanding lead in Florida. Yet, the race in that key swing state is still too close to call, the announcers say.
Sixty minutes later, just after 8:00 pm ET, the polls are now closed in 21 states.
Just like a lottery machine registering a winner – the United States map quickly becomes a sea of blue.
It becomes quickly apparent that Biden turned out voters across the nation – with voter turnout at its highest level in 80 years. Now, the announcers are saying – the margin of error has receded – and Florida is called for Democratic candidate Joe Biden!
By 9:00 pm ET, polls in another 14 states have closed, including key battleground states of Arizona, Michigan and Wisconsin.
Ding, ding, ding – Michigan and Wisconsin go to Biden!
The Trump campaign is quiet as they know without Florida and the upper Midwest, there is no path for the president to win enough Electoral College votes. It's still too early to call Arizona, but Biden has the lead there too.
By 10:30 pm ET, it becomes clear that Biden has delivered a sweeping victory.
He easily swept essential swing states such as Pennsylvania, Florida, Michigan, Arizona, North Carolina and Wisconsin. He even reached deep into Republican states and won electoral votes from states including Georgia, Texas, Iowa and Ohio.
By the end of the night it is clear that Trump primarily kept his base — including Appalachia, the interior West and the rural South. But the narrow base was not enough to get to even 200 Electoral College votes.
It's a Biden blowout.
By 10:45 pm ET, Biden is declared the winner on every major news network you watch. Even conservative cable TV news networks declare Biden the winner of the 2020 election.
However, the Trump campaign remains quiet. There is no concession call by the president. Nonetheless, Biden declares victory and delivers a heartfelt speech to the nation – promising a return to normalcy.
Biden's resounding landslide win marked the fifth time during the 20th century that a first term president failed to win reelection. Trump joins Taft, Hoover, Carter and Bush for that footnote in the history books.
A Biden Presidency
What will it mean for the economy, key government policies, the stock market and precious metals? We explore some of those questions here with hypothetical scenarios and invite your thoughts too! Please leave a comment below.
The Stock Market
On election night, the stock market sinks – with the major averages selling off swiftly in after-hours trading as it becomes clear that the Democratic voters turned out in droves. The knee-jerk reaction lower reveals Wall Street's worries over Biden's proposal to increase the corporate tax rate and the likelihood that the regulatory environment will tighten once again.
Gold on Election Night
Gold surges above the $2,000 an ounce level as risk-averse investors turn to precious metals once again for safety and wealth preservation.
Digging into Biden's policies
The Trump administration slashed the corporate tax rate from 35% to 21%, which boosted earnings growth and the stock market in the Trump era.
President Biden increases the corporate tax rate up to 28%, but it still remains lower than the 35% level it was prior to Trump's tax cuts.
President Biden follows through on his pledge to fix the Social Security program. He adds new Social Security taxes for those earning above $400,000 at an even 12.4% split between workers and employers. This helps strengthen the Social Security Trust Fund.
Regulations Tightens Back Up
After the past four years, where regulations were eased across key industries like energy and the financial sector, President Biden tightens up the regulatory environment for oil and gas companies and increases consumer protections in the financial industry.
A Hands off Approach to the Federal Reserve
The Biden presidency returns to the traditional hands off approach to the Federal Reserve. While President Trump, in a highly unorthodox manner, criticized the Federal Reserve and jawboned repeatedly for lower – and even negative interest rates – President Biden respects the independence of the Federal Reserve.
Financial markets and Wall Street breathe a big sigh of relief that political influence on the Fed is once again off-limits – this preserves the Fed's ability to protect the financial system and lowers the risk of future financial system destabilization due to a politicized Fed.
Interest rates stay low through the Biden presidency.
The Economy
As promised, President Biden rolls out greater reliance on public transportation using 'green energy.' He institutes manufacturing tax credits and subsidies for capital investment process upgrades to utilize low-carbon technologies and creates a carbon tax on fossil fuels.
Biden implements his 4-year $700 billion "Made in America" plan for federal procurement of U.S. manufactured goods, which helps new job creation in the wake of the COVID recession. He increases spending on infrastructure, which also creates new jobs and the unemployment rate falls quickly in 2021.
Biden allows Medicare to negotiate drug prices, which controls drug price inflation.
America's Role in the World
Like Trump, Biden has taken a tough stance on China. However, Biden rejects the use of tariffs, which ultimately created an additional tax for U.S. consumers on imported goods from China. Inflation on consumer goods eases modestly as Biden calls a truce in the tariff trade war. His administration quickly resumes multilateral trade negotiations, pulling in key European allies, which is a dramatic turnaround from the isolated role the U.S. played in its trade war with China under the Trump era. The United States rejoins Paris Climate agreement.
Federal Deficit
Annual budget deficits likely over $1 trillion are currently forecast for a Biden presidency, which is the same as was expected under a second Trump presidency.
The United States remains on a collision course in the future regarding the supremacy of the U.S. dollar as the world's reserve currency. Neither President Trump nor Biden have made tackling and reducing the federal debt a priority issue. This allows gold to continue to rally and climb throughout Biden's presidency as investors around the globe turn to precious metals in response to fiat currencies becoming increasingly indebted by their sovereign governments.
Gold over the Long Term
Gold hits $3,000 an ounce in Biden's second year in office and continues its slow and steady uptrend – with major Wall Street firms now projecting gains to $5,000 an ounce by 2024 amid the continued and unsustainable increase in the United States government debt levels.
Stocks over the Long Term
The stock market quickly rebounded from the Election night sell-off. The traditional Santa Claus rally delivered its annual gifts to Wall Street investors in late December – as it becomes clear that Biden intends to follow through on his moderate policies, and the progressive wing of the party will remain on the outskirts of his administration.
Indeed, history reveals that the stock market typically outperforms under Democratic presidents.
From 1945-2019, the S&P 500 returned an average of 12.96% under a Democratic president and unified Congress versus a 5.70% return with a Republican president, according to Bloomberg and Wells Fargo Investment Institute.
The bull market in stocks continues over the next two years, with new all-time highs seen in the major stock indices. The U.S. dollar trends lower and gold and silver continue in steady and strong uptrends as well.
Now It's Your Turn
How do you see a Biden presidency unfolding? We invite your comments below!
Want to read more? Subscribe to the Blanchard Newsletter and get our tales from the vault, our favorite stories from around the world and the latest tangible assets news delivered to your inbox weekly.