"What Happens If…Trump Wins on Election Night but Biden Prevails After Mail-in Ballot Count"
Posted on
— Leave a comment
The Red Mirage…and Blue Shift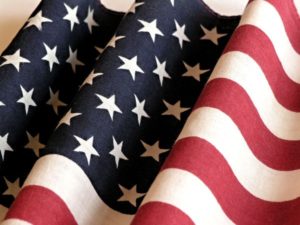 It's Election Day 2020. Tensions are high. Alarm bells have been sounding for weeks with President Trump's repeated statements that mail-in ballots are rigged.
Polls in recent weeks have shown that Democrats planned to vote by mail at a much higher rate than Republicans. Indeed, in key swing state Wisconsin, a Marquette University poll revealed that 47% of Democrats plan to vote by mail, while just 18% of Republicans do.
Voters across America who have become accustomed to learning the outcome of the contest on election night will be disappointed this year.
As the early returns begin to roll in on the evening of November 3rd – it's a sea of red on the U.S. map. Where most states, including key swing states, do not have decisive winners, President Trump is ahead in the count. It appears that the President is winning across the country!
However…mail in votes aren't counted yet…It's a red mirage (it looks like Trump has won)…but once mail in ballots are counted…a blue shift will appear…
Complicating this year's count, key swing states like Wisconsin, Michigan and Pennsylvania can't, by law, start preparing mail ballots to be counted until Election Day.
With large numbers of Democrats casting their votes by mail – that means most Democratic ballots will not be counted on election night.
Even though many states have not been called for Trump, his campaign declares a victory at 11:15 pm ET!
Following through on his belief that the nation "must know Election results on the night of the Election," per his Tweet – Trump launches into his acceptance speech.
Political broadcasters attempt to clarify to the nation that, in fact, the election has not concluded. Indeed, the view of the U.S. map on TV screens is mostly red, but only with a lead, not decisive wins.
Yet, conservative internet news sites declare Trump the victor. The 'news' spreads fast on social media that Trump won on election night.
Major broadcast networks attempt to tell the nation that the election is not over…yet millions don't believe the 'fake news.'
Claiming widespread "voter irregularities," the Trump Administration begins its campaign to stop additional vote counts.
The nation wakes up on November 4th to the news that President Trump is attempting to stop the mail-in vote count that is still occurring in many states. Attorney General Bill Barr orders the seizure of mail-in ballots to ensure the vote counting will stop.
Conservative social media claims the Democrats are trying to steal the election and the President's base takes to the streets to defend his 'victory' on election night. Violent outbreaks occur in major cities across the nation as disinformation spreads on social media about the danger posed by pro-Biden demonstrators and supposed Antifa violence.
[Editor's note: While this may sound like an extreme turn of events, parts of this scenario were gamed out over the summer by the Transition Integrity Project (TIP), a bipartisan group of current and former government officials and campaign leaders.]
Market Reaction
The stock market plunges on November 4th – as the international news media reports that presidential election results are not official, yet Trump has claimed victory. The U.S. dollar tumbles and foreign investors sell Treasury bonds in a vote of no-confidence in the apparent political instability of America. Gold and silver soars as investors turn to a safe haven amid the chaos, panic and fear.
Throughout November, dozens of lawsuits are filed. President Trump still maintains that he is the winner of the election. Candidate Joe Biden has not yet conceded.
U.S. International Standing Falls
By now, the U.S. stock market has fallen into a bear market – and is down 35% amid the failure to achieve a peaceful transfer of power. Gold hits a new record high at $3,000.
Governments around the world point at the United States and claim the fall of American democracy has begun.
Russia and China continue their efforts to squeeze the U.S. dollar out of international commerce and sign a new deal which allows for trade using the yuan. Several Asian countries and European countries sign on as well – as they see the writing on the wall that the U.S. is a superpower in decline.
S&P cut the long-term U.S. credit rating by several notches, with a negative outlook. Suddenly interest rates in the U.S. spike – as foreigners are no longer interested in buying U.S. Treasury debt. Yet, the country must continue to sell new Treasury securities to pay the interest coming due on the nation's gargantuan $27 trillion in debt.
As the lawsuits wind their way through the courts – lower courts rule the counting must continue. The states resume their counts of the mail in ballots. The Supreme Court affirms a case that yes, all mail-in votes must be counted.
White House Operations Moves to Palm Beach
By Thanksgiving it is clear that Joe Biden has won the election as all the mail-in ballots are finally counted.
The mainstream news media announces that Biden is the winner of the United States 2020 Presidential Election. President Trump still hasn't conceded – yet he moves his family and key staffers to Palm Beach, Florida. Trump announces he is moving White House operations to his resort The Mar-a-Lago Club.
While Trump never concedes, the inauguration of Joe Biden occurs on schedule in January and the new Democratic Administration takes power. The stock market recovers slowly and interest rates come down as some semblance of normalcy returns in 2021. Yet, gold and silver prices remain high – as investors know how close the country came to the edge of democracy.
Now it's Your Turn
How do you see this or other hypothetical election scenario unfolding? We invite your comments below!
Between now and Election Day, we present to you an in-depth Blanchard exclusive Presidential Election series. Please join us each week as we cover six hypothetical scenarios and detail potential outcomes for the economy, geopolitics, the stock market and precious metals if these scenarios unfold. We invite your comments, questions and insights below in this interactive event.
Read Part 1 here: "What happens if…." Trump Wins in a Landslide
Read Part 2 here: "What Happens If….Biden Wins in a Landslide
Want to read more? Subscribe to the Blanchard Newsletter and get our tales from the vault, our favorite stories from around the world and the latest tangible assets news delivered to your inbox weekly.