Your options for determining the value of your coin or coin collection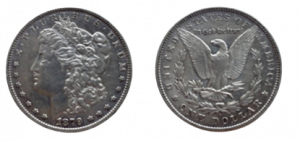 Ever wondered what your grandfather's coin is worth? Inherited an interesting old coin collection? New to the numismatic world? Not to worry, coin grading is a process that involves several steps, but it's fairly straightforward. With a lot of online resources, anyone can do it. And, of course, there's also an app for that.
What Is Coin Grading?
First, what is coin grading? Grading is an industry term for determining the physical condition of a coin. As PCGS explains:
"Grading is a way of determining the physical condition of a coin. Grades range from Poor (almost completely worn out) to Perfect Uncirculated (a coin with absolutely no wear and no flaws of any kind). Over 99.9% of all coins fall somewhere between these two extremes."
Uncirculated coins can also be referred to using another industry term, "mint state." That's because they were carefully and properly stored since the moment they were minted. If the coin has been circulated for a short time but still looks new it's graded as "about uncirculated."
A Word About the Sheldon Grading Scale
Until notable numismatist, Dr. William H. Sheldon, developed what is referred to as the Sheldon Scale in 1949, there were no industry standards for evaluating coins. What looked great to one dealer, another would describe (and therefore value) very differently.
The Sheldon grading scale determines the condition of a coin based on a 70-point system. Why 70 and not 100? We are not sure. Apparently, to Dr. Sheldon, a coin that received a "70" would be worth 70 times as much as a coin that received a "1." Regardless, this grading system became the industry standard all reputable third-party coin certification companies use.
The ANA Grading Standards
The American Numismatic Association (ANA) also bases its coin grading standards largely on the Sheldon Scale but includes the addition of a clearly defined description of each numerical grade. Here's a quick list of coin grades:
Proof – (PF/PR): A specially made coin distinguished by sharpness of detail, minted primarily for collectors and not released for general circulation.
Mint State (MS): is interchangeably used with Uncirculated (UNC) to describe the coin without any trace of wear.
Perfect Uncirculated (MS-70): The coin is in new condition showing no trace of wear. Very few regular-issue coins are ever found in this condition.
Gem Uncirculated (MS-65 to MS-69): Very few signs of wear and contact marks.
Choice Uncirculated (MS-63 to MS-64): Similar to GU above, but a grade lower, maybe lightly toned, with a few contact marks.
Uncirculated (MS-60 to MS-62): No wear but has contact marks and maybe some spotting.
Choice About Uncirculated (AU-55 TO AU-58): Light wear, but still in very good condition.
About Uncirculated (AU-50 TO AU-53): Light wear, some luster remains.
Choice Extremely Fine (XF-45 or EF-45): Light wear shows, but details are still clear. Minor mint luster is present.
Extremely Fine (XF-40 or EF-40): The design is lightly worn throughout, but all features are clear and well-defined. Traces of luster may show.
Choice Very Fine (VF-30 to VF-35): Light wear throughout, major features including lettering still visible but not clearly.
Very Fine (VF-20 top VF-25): Moderate wear, major features including lettering still visible but not clearly.
Fine (F-12 to F-15): Moderate to considerable even wear. The entire design is still visible but is worn.
Very Good (VG-8 to VG-10): Well-worn with main features clear
Also Good (G-4 to G-6): Heavily worn, details not visible clearly.
Also About Good (AG-3): Very heavily worn, with portions of the lettering, date, and legends worn smooth. The date is barely readable. Rims merge into the lettering.
Fair (2): Most of the design details are worn completely smooth. Rims are flat or missing. May have serious nicks, dents, and defects.
Poor (1): Only the basic coin type is identifiable. The date and mintmark must be strong enough to be readable. The entire surface is worn and may sport numerous blemishes.
Why You Want to Grade Your Coin
It's simple: If you want to know how much the coin is worth you need to get it graded. Coin grading and authentication emerged as a solution to rampant counterfeiting and coin doctoring in the collectible coin industry. Depending on the type of coin, minute differences in grade can sometimes mean thousands of dollars difference in a coin's market value.
Why Grade Coins Professionally
If you are a coin collector, you can probably learn to grade your coins with some accuracy, but to get it authenticated, certified as genuine, and professionally graded requires the expertise and precision of experts.
With professional coin grading not only will you get peace of mind, but the numeric grade assigned by experts will be recognized and accepted by dealers and collectors worldwide. Each coin is given a unique registration number which serves to catalog the coin at the grading service. It's also sonically sealed in an archival acrylic holder to preserve its condition and permanently attest to its grade and its authenticity after grading.
Your Options for Coin Grading Services
The go-to in the industry are Professional Coin Grading Services (PCGS) and Numismatic Guaranty Company (NGC). They offer an unbiased appraisal of the condition or grade of each coin, which is accepted in the marketplace.
In addition to PCGS and NGC grading services, many numismatists go a step further and submit their coins for CAC recognition.
The Certified Acceptance Corporation examines slabbed coin and verifies that it meets the standard of quality within the grade. A CAC sticker on your coin can add valuable liquidity because stickers are awarded only to coins that meet the standard for selective buyers.
In fact, CAC recently announced they will not be stickering coins any longer and will start a full grading service to compete with PCGS and NGC. CAC feels strongly that coin grading has started to degrade over the last decade and has taken on the honorable task of adding more competition to the coin grading market to ensure the industry leaders stay true to the grading standards collectors and investors expect.
How to ID a Coin: The DIY Approach
PCGS Photograde is a helpful tool to use when you want to identify your coin. It won't give you the price, but it may help you get the necessary info for your submission form and avoid that pesky fee. We used Photograde to drill down the images to ID our sample coin, and it was very easy. Turns out, we had an 1879 Morgan dollar MS65 on our hands (pictured, front and back). We found it on sale for $109.99 at the PCGS auction. Again, this is not grading, just identifying, and definitely doesn't accurately reflect the condition or the value of the coin
The bottom line
Three major factors determine the grade the coin will be awarded: how the coin was made, handled, and stored. The best-preserved coins tend to have the greatest value, and you'll want a professional to grade your coin, someone who can authenticate your coin and whose expert opinion is accepted in the marketplace.
Want to read more? Subscribe to the Blanchard Newsletter and get our tales from the vault, our favorite stories from around the world, and the latest tangible assets news delivered to your inbox weekly.