It's No Secret Americans Didn't Like This Coin's Predecessor
Posted on
— 1 Comment
The Walking Liberty Silver Half Dollars were minted from 1916 through 1947 with broad public and artistic acclaim and are widely considered to be one of America's most beautiful coins. It was no secret the public disliked its predecessor: the Barber half dollar.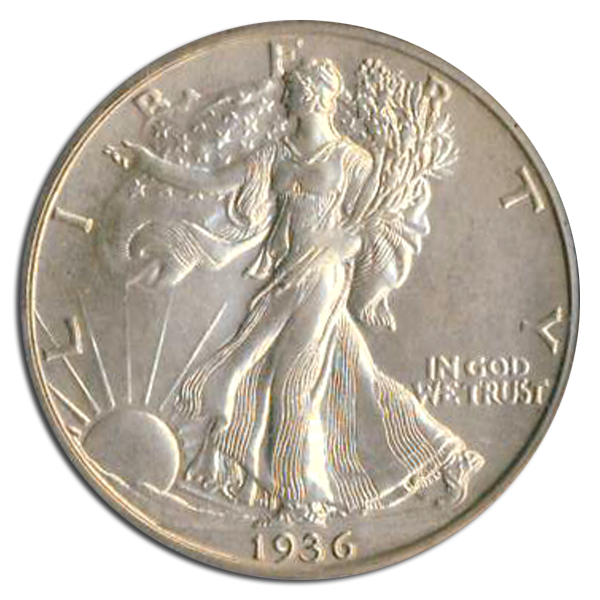 In April 1915, Robert Woolley took over as U.S. Mint Director and one of his first acts was to request new designs for silver coinage including a new silver half dollar.
Acclaimed German born American sculptor Adolph Weinman was chosen to design the new silver half dollar which resulted in immense artistic progress in our country's coinage.
Noted art historian Cornelius Vermeule praised the Walking Liberty half dollar writing the coin "really treat[s] the obverse and reverse as a surface sculptural ensemble. The 'Walking Liberty' design particularly gives the true feeling of breath and sculptural services on the scale of a coin."
Minted in 90% pure silver with a distinctive reeded edge, these elegant Art Nouveau-style coins are packed with symbolism and their beauty resonated with Americans during different economic times.
Weinman created a dramatic portrayal of a mythical figure of Liberty shown walking on the obverse. She is featured in a full gown with an American Flag draped across her shoulders. She holds a bouquet of olive branches in one hand, while the other is outstretched ahead. The sun is rising in the lower left with the inscriptions: "LIBERTY," "IN GOD WE TRUST" and the year of minting. The reverse features a stunning bald eagle rising from a mountaintop perch.  
These beloved Walking Liberty Silver Half Dollars were minted until 1947. In 1948, Walking Liberty Half Dollars were replaced by the Benjamin Franklin Half Dollar.
The Walking Liberty Half Dollar series is considered challenging to collect by date and mintmark due, in large part, to limited survivorship for coins struck between 1916 and 1933.  
Many collectors aim for what is known in numismatic circles as a 'short set' which can be completed with issues struck from 1934 onward. If you'd like to start a collection or add to yours, we have just one of these beauties minted in 1936.
In 1936, the Depression lingered on in America. Jesse Owens won his fourth Olympic gold medal and the Boulder Dam was completed and later renamed the Hoover Dam. In that year, the U.S. mint struck over 12 million Walking Liberty silver half dollars. Only 10,000 survived in PR65 grade levels or better.
Holding one in your hand opens the door to yesteryear. Just imagine how many people carried this coin in their pockets over the past 84 years. Imagine the stories this coin could tell if it could talk. Imagine passing down this coin to your sons or daughters and the meaning that will carry on in their lives forever.
Want to read more about historic coins, market news and Tales from the Vault? Sign up for our newsletter and you'll get our favorite stories from around the world and the latest tangible assets news delivered to your inbox weekly.