The Standing Liberty Quarter: A Short-Lived Coin with Enduring Appeal
Posted on
— Leave a comment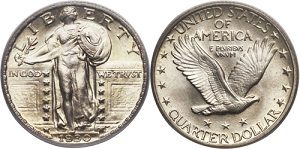 The early twentieth century marked a sea change in American numismatics. Theodore Roosevelt spearheaded this effort, envisioning an American coinage that would rival the artistic qualities of ancient Greek coins. This resulted in such apexes of numismatic design as the gold Saint-Gaudens Double Eagle and the Indian Head Eagle.
By 1916, silver coins had become eligible for redesign and the Standing Liberty quarter was created. It succeeded the Barber quarter, which had been minted for 24 years and had suffered from poor public reception ever since its release.
A breath of fresh air for silver coin design, the Standing Liberty quarter was very nearly a stagnant continuation of the past. The first designs for the new quarter were submitted by Charles E. Barber (whose previous designs for the Mint had been in use for decades). The Commission of Fine Arts rejected his designs, however, and solicited designs from renowned sculptors Adolph Weinman, Hermon MacNeil, and Albin Polasek. MacNeil, who went on to design sculptures for the U.S. Supreme Court building, was selected to design the new quarter.
Aspects of the quarters design remain mysterious. The model for Liberty, for example, is unknown, but is rumored to have been Doris Doscher, who later became a silent film star. In 1972, newspapers reported that the model was actually Broadway actress Irene MacDowell and that her name had been withheld because her husband, who played tennis with MacNeil, disapproved.
MacNeil submitted two designs for the obverse. The first was a militaristic representation of Liberty, intended to show the world that America wanted peace but was prepared to fight (in World War I). The accepted design shows Liberty looking toward the viewers right, towards the war in Europe. Holding an olive branch, Liberty strides through an opening in a wall that is inscribed In God We Trust and bordered by 13 stars. She steps forward, as MacNeil said, in "the defense of peace as her ultimate goal." Additional inscriptions are LIBERTY and the date.
The reverse shows an eagle in flight, with 13 stars to his left and right and below him. The reverse inscriptions are UNITED STATES OF AMERICA, E PLURIBUS UNUM, and QUARTER DOLLAR.
The quarter was struck from 1916-1930 at the Philadelphia Mint, except in 1922, when no quarters were struck. It was also less regularly produced at the Denver and San Francisco mints. The Mint produced the coin in 90% silver and 10% copper from 1916-1930 and followed it with the Washington Quarter, which is the quarter we still use today.
The quarter underwent several design changes throughout its minting history. In 1925, for example, the date was recessed into the design so that it wouldn't wear off in circulation. An earlier change covered Liberty's bare right breast with a chain-mail shirt not, allegedly, for reasons of modesty, but for reasons of symbolism. If Liberty was to vanquish her foes, she needed to do so fully protected, not artistically half-draped.
In 2016, the Mint released a commemorative edition of this historic coin proving that its enduring appeal has not waned. Blanchard is pleased to offer you a 1930 Standing Liberty Quarter in Mint State 67 condition with a Certified Acceptance Corporation seal. This coin has the additional distinction of being graded Full Head, a rare, valuable feature which denotes that 1) Liberty's hairline is complete, 2) Liberty's ear indentations are clear, and 3) the three leaves in Liberty's hair are visible.
The Standing Liberty Quarter has been widely loved from its first appearance, and this coin will make an excellent addition to any investors American collection.