After an ominous sell-off on Monday of last week, markets in the US mostly recovered from two consecutive weeks of losses. S&P 500 futures made a three-week low of $2,215.75 on Monday morning, and market participants were evidently waiting to buy the dip.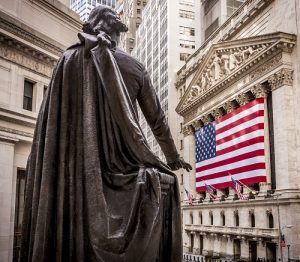 After all three major benchmark indices made their respective low points on Monday, prices immediately started climbing again. The rally carried into Tuesday, where the Dow Jones Industrial Average had its best one-day rally in months. The Dow, Nasdaq, and S&P 500 all closed with more than a 1% gain. This rally gave stocks the boost they needed to snap a two-week losing streak.
Despite the very strong gains in stocks, there were also several sharp sell-offs last week that caught investors off guard. And although stocks finished largely higher for the week, the significant sell-offs that came after the sharp rallies resulted in a lack of clear direction and an overall mixed trend in the markets.
Volume on the on the New York Stock Exchange and Nasdaq fell to the lowest level of 2017 on Wednesday. Analysts attributed the lower than usual volume to the lack of economic events and the end of summer. The lower than usual volume provides a possible explanation for the gyrating market moves last week.
"Most people are away, so moves tend to be amplified for no good reason. Technical analysts may point to the 50-day moving average of the S&P 500, which the index keeps failing to break through," said Michael Antonello, an equity sales trader at Robert W. Baird & Co.
Despite the lack of economic reports last week, the were a few speeches and key events that influenced the markets. The annual central bank symposium in Jackson Hole caused a somewhat mixed reaction. Most of the gains that came immediately after Federal Reserve Chair Janet Yellen's speech at Jackson Hole, which was supposed to outline monetary policy.
However, Yellen refrained from talking bout fiscal policy and the economy and instead focused on the substantial progress towards full employment and improved banking regulations. With a lack of additional bullish drivers, stocks pulled back shortly after Yellen's vague comments.
Yellen was not the only Federal Reserve member to influence the markets last week. Remarks from Dallas Fed President Robert Kaplan regarding the effect a stock market correction would have on the economy instigated a huge spike in safe haven assets.
Gold rapidly spiked to $1301.40 per ounce before declining to $1,282.30 and then recovering just below the $1,300 level. 
Although nobody truly knows if a stock market correction is looming around the corner, the mere mention of a market correction by a Fed President was enough to cause gold to surge.
Since 1975, Blanchard has successfully helped 450,000+ clients invest wisely in precious metals and rare coins. Our team of experts are always here to help you make the right investment decisions and capitalize on opportunities in the precious metals market.
Call us today at 800-880-4653