Nearly 80% of Americans Expect Inflation to Get Worse
Posted on
— Leave a comment
After nearly a decade of nearly non-existent inflation – the phenomenon of rising consumer prices is back. This spring, U.S. consumer prices saw their biggest jump since August 2008.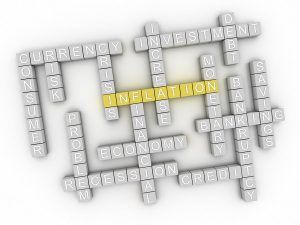 And, inflation is sticking around.
U.S. consumer price growth continued to climb in September, the Labor Department reported Wednesday. Over the last 12 months, U.S. consumer prices gained 5.4%.
While Federal Reserve officials continue to downplay the recent jump in prices from everything from gas to used cars and trucks to furniture, to airline flights and copper calling inflation a "transitory" effect, many Americans aren't so sure.
A new study revealed that that 78% of Americans expect inflation to get worse over the next year, and 69% say it will negatively impact their purchasing power over the coming months, according to the Allianz Life Quarterly Market Perceptions Study, Q3 2021.
Many Americans also believe inflation will impact their retirement:
72% say they are concerned the rising cost of living will impact their retirement plans
70% say they are worried they will be unable to afford the lifestyle they want in retirement
Concerns over inflation are fueling interest in so-called "protection products" or financial assets that protect wealth against stock market declines and rising inflation. Gold investors have long relied on physical precious metals to serve both of those key portfolio functions.
The Allianz study found that people are increasingly likely to say it's important to have some retirement savings in products that protect from market loss (70% in Q3 compared with 64% in Q2). Further, nearly three quarters (72%) say they would be willing to trade off some upside growth potential to have some protection from market loss.
Higher net worth Americans – those with investable assets larger than $200,000 – are even more likely to agree that it is important to protect retirement savings from loss (83%), and that they are willing to sacrifice gains for this protection (81%).
It's not just inflation that people are worried about now. Fifty-four percent of Americans worry that another big market crash is in on the horizon, which is up from 45% of those concerned in the second quarter of this year, Allianz says.
Risks are rising. Stock market gains, which have been fueled by the Fed's ultra-accommodative monetary policy, could evaporate quickly once the central bank pulls back its easy money punch bowl. Inflation is real and seemingly everywhere you look now.
Are you looking for ways to protect your hard earned retirement assets and wealth?
Gold is a protection play
If you are considering additional diversification now given the rising economic risks, consider increasing your allocation to gold, which is used as an inflation hedge and also as an effective portfolio diversifier against equity market declines. More people are now looking to gold to protect their assets.
"There's more risk aversion in the market and gold is benefiting from that, coupled with concerns about inflation and cooling of the global economy," Commerzbank analyst Daniel Briesemann told CNBC this week.
If stagflation talks come to the fore increasingly, gold could clock $1,900 by year-end as interest rates should remain relatively low even if the Fed starts tapering, Briesemann added.
You could benefit from a confidential portfolio review from a Blanchard portfolio manager. If you'd like personalized recommendations to match your long-term financial goals and risk tolerance levels call us at 1-800-880-4653.
Want to read more? Subscribe to the Blanchard Newsletter and get our tales from the vault, our favorite stories from around the world and the latest tangible assets news delivered to your inbox weekly.