"Pikes Peak or Bust!" This Coin Captures Heart of Colorado's Rich Gold Rush History
Posted on
— Leave a comment
After the panic of 1857, many Americans eyed the West as an opportunity to achieve financial security. In 1858, the Colorado Gold Rush began with over 100,000 people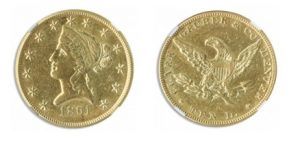 flocking to the Rocky Mountain region.
"Pikes Peak or Bust" was a common refrain among the early prospectors, in reference to the imposing mountain in the Colorado Front Range.
In the early days of the Colorado Gold Rush, money was scarce. The prospectors paid merchants for goods they needed with a pinch of gold dust from their pouch. The "pinch" was intended to equal $1 of gold and weigh 0.05 troy ounce. However, merchants with fat fingers captured bigger pinches of gold and prospectors were left with smaller wealth.
The need for standardization of money was clear – and this opened the door for the creation of private or "territorial" gold. Enterprising businessmen partnered to open private mints that turned the gold dust into usable and standard-sized gold coins.
These early private minters assayed and refined the gold dust, cast and rolled it to a certain thickness then cut the gold into round blanks. And, then machine-pressed them into gold coins for their customers.
Clark, Gruber & Co. was the first and most well-respected mint in Colorado during this time period. During the firm's first three years of existence, they minted a reported $594,305 worth of Pikes Peak gold.
Eventually, the United States Mint acquired Clark, Gruber & Co. and it became the Denver Mint.
Clark, Gruber & Co. minted $2 1/2, $5, $10 and $20 gold coins.
The 1860 version of the $10 gold coin featured an amateurish representation of Pikes Peak. The 1861 coin was upgraded to appear similar to the Liberty Head federal gold coins in existence at that time, with the addition of PIKES PEAK on her coronet.
Want to read more? Subscribe to the Blanchard Newsletter and get our tales from the vault, our favorite stories from around the world and the latest tangible assets news delivered to your inbox weekly.