Stocks in the US started last week off with a bang, as the three benchmark stock indices all rallied on Monday amid lessening tensions with North Korea.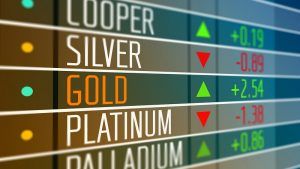 As mentioned in last week's article, there was a significant amount of market apprehension about the events that could take place over the weekend, i.e. a missile attack. However, Emini S&P 500 futures gapped up Sunday evening by approximately 5 points as the possibility of a North Korean missile strike dwindled over the weekend. The strong Emini S&P 500 futures rally continued throughout the night and into Monday's trading session.
The S&P 500, and the Dow Jones Industrial Average both rallied into the close on Monday to settle at fresh all-time highs, with both indices closing more than 1% in the green.
Although Monday's rally seemed to lose a little bit of momentum mid-week, bids started flowing into the market again on Friday as prices began to drift towards new all-time highs.
For the week, the Dow Jones advanced the most with over a 2% gain. The Nasdaq 100 and S&P 500 both closed around 1.4% higher.
North Korea ended up shocking the world by actually firing a missile over Japan early Friday morning. There was an initial knee-jerk reaction to the launch that sent S&P futures about ten points lower, but investors clearly used the sell-off as an opportunity to add to their long positions after they digested the news.
The Dow Jones went on to make its 39th record high of 2017 on Friday, along with the S&P 500. Although the Nasdaq 100 didn't make a new record, it still closed largely positive.
"In general, and the markets have kind of figured this out, geopolitical events are fairly short lived. You have to be careful of them and they will create stress moments in the market, perhaps corrections, but they don't tend to last," said Matthew Peron, head of global equities for Northern Trust Asset Management which oversees about $1 trillion in assets.
This certainly seemed to be the case with North Korea. Strong gains in the stock market, especially after the missiles were fired, confused a lot of investors due to the amount of fear and uncertainty that was priced into the markets in weeks prior.
The last thing market participants expected was for stocks to rally after North Korea finally tested their missiles after weeks of threats.
Most of the market's gains were powered by a solid rally in technology stocks. Nvidia Corporation (NVDA), gained 5.9% on Friday alone amid analysts price-target upgrades, which contributed to a significant portion of the Nasdaq's spike. Similarly, Advanced Micro Devices (AMD) was up 2.2% on Friday which boosted both the S&P 500 and the Nasdaq.
Although there was a brief surge in safe haven assets immediately after the North Korean missiles landed near Japan, the flight to safety didn't last.
Gold for December delivery was trading around $1,325 per ounce on Friday after declining almost 2% for the week. However, given that gold just made a new YTD high only one week ago, slight declines are not too alarming.
Since 1975, Blanchard has successfully helped over 450,000 clients invest wisely in precious metals and rare coins. Our team of experts are always here to help you make the right investment decisions and capitalize on opportunities in the precious metals market.
Call us today at 800-880-4653