Christian Gobrecht did not spend many years designing coins for the US Mint, but his coins spent many years in the hands of the American people. Although he is most famous for his Seated Liberty design, his Liberty Head gold coins were minted from 1838 until 1907 nearly 70 years.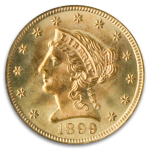 Always the Understudy
Gobrecht's popular coins almost didn't happen. After being passed over for the position of Mint director, and declining the position of assistant director, it seemed as if the renown engraver would continue working on other projects. Instead, he continued working with the US Mint to provide various engraving technologies.
In 1835, William Kneass, who was originally names as Mint director, suffered a stroke, providing Gobrecht the opportunity to design coins as the second engraver. It was in this role that Gobrecht designed his highly prized Liberty Head gold coin. Shortly after Kneass died in 1839, Gobrecht won his appointment as chief engraver of the US Mint. Sadly, Gobrecht would die only 3 years after his appointment to the role.
A Classic Look for a Changing America
At the time that Gobrecht designed his Coronet Quarter Eagle ($2.50 Liberty Head gold coin), America was still largely a frontier country, with the Second Seminole war and the Texas Revolution in high gear. The Texas Declaration of Independence would be signed and, on a lighter note, P.T. Barnum and his circus would begin their first tour of the United States.
Like America, the Liberty Head coin was idealistic, rugged and proud. Differing from earlier iterations, Liberty now wore her hair up, her bun wrapped in pearls and thirteen stars (representing the thirteen original colonies) encircled her head. For many, the coin was the perfect representation of a young America that was becoming increasingly more respected on the world stage.
The End of an Era
By the time the 1899 Liberty Head Quarter Eagle was minted, America was a much different place. It was the beginning of the Progressive Era, a time that would bring significant change to the financial practices of the country. It was also a period of exponential growth in the number of millionaires as the Gilded Age ended, and American citizens demanded more financial oversight. It became apparent that America no longer needed to prove it was a nation to reckon with and it was now time to more effectively manage the financial aspects of growth. As a result, its coins would soon change as well.
As America grew to be viewed as a respected world power, the Liberty, with her thirteen stars and a bun wrapped in pearls, was a reminder of who Americans used to be, not who they were now. It would soon be replaced by the Indian Head Quarter Eagle until the gold standard was removed and the American Quarter Eagle (as well as the rest of US gold coins) became part of our past.
Thinking of investing? Have questions? Blanchard has helped more than 450,000 investors to date with expert consultation in the acquisition of bullion and American numismatic rarities, and makes a great choice for a first time investor.