The First Early Gold Coin to Feature a Native American
Posted on
— Leave a comment
A new Quarter Eagle gold coin, worth $2.50 in face value was issued in 1908 – known as the Indian Head. This is the first coin to feature a real Native American. Earlier coins that featured Native Americans were stylized portraits and did not represent real people. Also notable to collectors, the Indian Head gold pieces that survive today remain the only U.S. circulating gold coins with a recessed design – or one that is in sunken relief below the surface of the coin.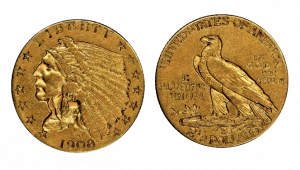 Boston sculptor Bela Lyon Pratt, a student of Augustus Saint-Gaudens, designed this arresting coin. The obverse reveals a dramatic head of a Native American man, wearing a headdress and facing left. The designer's initials, BLP, are etched just above the date.
Pratt based the design on the reverse of the 1907 $10 gold coin: The reverse features a standing eagle on a smattering of arrows, with its left talon showcasing an olive branch in place. The mint mark is revealed on the left side of the arrowheads.
The U.S. Mint produced Indian quarter eagles intermittently from 1908 until 1929. Within that series, there are 15 different varieties – with the rarest being the 1911-D. Only 55,680 in 1911 at the Denver mint were produced – and that is considered to be a key date for this coin. Key date coins are those with a low mintage or with mintages with few survivors and they are prized in the world of numismatics.
During this time period, the public harbored an unfounded concern that the recessed design of the Gold Quarter Eagle would collect germs. In fact, well-known Philadelphia numismatic Samuel Chapman wrote to President Theodore Roosevelt in 1908 after the first issuance to level a critique of the new design. The indentations in the new Indian Head Quarter Eagles would collect dirt and germs, Chapman claimed.
Due to these fears, few people were interested in saving these coins for their coin collections. Today, only a few circulated pieces are known to survive, perhaps from prescient collectors who ignored the public hysteria, but ultimately had to sell their coins in favor of food for family members during the Great Depression.
Many survivors today boast a striking bronze-gold color. Imagine the stories these coins could tell of this era just before the Great Depression. See our collection of Indian Head Quarter Eagles that we have on offering now.
Want to read more? Subscribe to the Blanchard Newsletter and get our tales from the vault, our favorite stories from around the world, and the latest tangible assets news delivered to your inbox weekly.