The Long Journey to the Large Head Indian Princess Gold Dollar Coin
Posted on
— Leave a comment
People have used gold as money for thousands of years.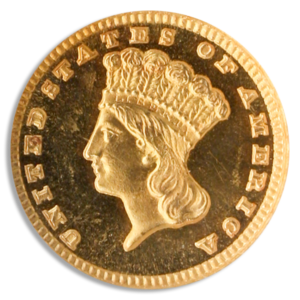 Yet here in America, it was the Act of March 3, 1849 that first established coinage of a U.S. gold dollar. Prior to that, early Americans used silver and gold coins brought from Europe, in addition to those made in Spanish possession in the New World.
The first gold dollar type that was struck here in the U.S. was the Liberty Head, which was issued from 1849 through 1854.
When the Liberty Head first appeared in circulation, the $1 gold coin was tiny – a mere 13 millimeters in diameter. For context that is smaller than our modern-day Roosevelt dime.
A common complaint?
Many Americans griped it was so small that it was easily lost. In 1849, losing a dollar was no small matter. For many it equaled a full day's pay.
In 1854, the U.S. Mint took action to solve this issue and struck a new gold dollar type called the Small Head Indian Princess gold dollar. The Mint increased the coin's diameter to 15 millimeters. This is known today among numismatic collectors as Type 2. The Type 2 gold dollar was minted from 1854 through 1856.
Guess what? The Type 2 dollar had problems too.
Chief Engraver James B. Longacre made the coin's relief too high on the obverse. That meant very few coins were fully struck. Nearly all of the Small Head Indian Princess gold dollars wore down quickly while in circulation.
In this case, it was the third try that was the charm. The U.S. Mint struck a new Type 3 gold dollar known as the Large Head Indian Princess gold dollar from 1856 through 1889.
The Type 3 gold dollar's size was appropriate and the design had staying power. For more than 30 years, the U.S. Mint struck this fascinating coin, until the denomination was ended in 1889.
While only 1,105 proof gold dollars were struck in 1885, many were utilized as love tokens – a major fad of the time. In the 1880s if a man wanted to propose marriage to a woman, he would take a proof gold dollar like this one and engrave it with the initials from his family name and the girl's first name. If the woman accepted it and wore it – the love token stood as a symbol to the world of their engagement.
This fully struck gold dollar boasts a warm honey gold tone and has outstanding historical appeal. See it here.
Want to read more? Subscribe to the Blanchard Newsletter and get our tales from the vault, our favorite stories from around the world and the latest tangible assets news delivered to your inbox weekly.