The Peculiar Appeal of the Three-Cent Piece
Posted on
— 2 Comments
By 1851, postage rates in the United States dropped from five cents to just three. This decrease complicated issues for most citizens, because payment for mailing a letter could not be made with a single coin. As a result the United States Mint made a decision to issue a new coin with a three-cent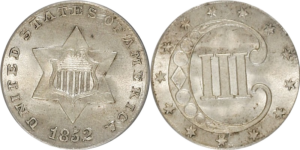 denomination, making it easier to pay for postage.
The U.S. Mint decided to mint two coins for this purpose. The first was a three-cent silver piece, the other was a three-cent nickel. The composition of the three-cent silver piece was set at 75% silver and 25% copper. This balance accomplished two objectives…first, the silver content established the value of the piece and second, the copper content discouraged individuals from collecting the coins with the intention to melt them.
The pragmatic appeal of the coins extended beyond easy postage payments; it was also designed to be lightweight and therefore more manageable. At just 0.8 grams, the piece remains the lightest weight coin ever issued by the United States. The diameter is less than that of dimes in circulation today. The small size and lightweight earned the coin the nickname "fish scales."
Moreover, the weight dropped further when the coin was minted to a weight of 0.75 grams by reducing its thickness while simultaneously boosting the silver content to 90% in an effort to get more people to start using the coin.   
The design of the three-cent silver piece was practical with a Roman numeral III on the reverse making it easy to quickly identify. The obverse showed a shield on a six-pointed star. In contrast, the obverse of the three-cent nickel featured the profile of Liberty. This 1865 version of the coin was in response to coin hoarding due to silver shortages during the Civil War. The nickel version of the three-cent piece consisted of 75% copper and 25% nickel. However, the purpose of the three-cent nickel began to diminish as hoarding came to an end and postage rates dropped to two cents.
For the entirety of the minting, all three-cent coins came from Philadelphia except for the 1851-O, minted in New Orleans. Minting figures vary considerably across the 38 years of the coin's life. For example, the 1885 three-cent nickel was only minted in a quantity of 1,000 pieces. Over 18 million pieces of the 1852 three-cent silver piece were minted. The lifetime of the coin was far greater than ever intended.  
Today, the 1868 date coins are especially sought-after given their relative scarcity, particularly with a grade above MS64. For example, some collectors will spend between $10,000 and $50,000 for an MS67 or MS68. The rarest is likely the 1852 Inverted 1 three-cent coin. Many experts estimate that only five or six of these exist.
Want to read more? Subscribe to the Blanchard Newsletter and get our tales from the vault, our favorite stories from around the world and the latest tangible assets news delivered to your inbox weekly.