The Wass Molitor $50 Gold Piece
Posted on
— 1 Comment
Wass, Molitor & Company, a legendary California Gold Rush era private gold firm, had its origins in Hungary just ahead of the Hungarian revolution.
The firm's founders, Count Samuel C. Wass and Agoston P. Molitor, both pursued metallurgy studies in Germany before returning home to Hungary to launch their careers in the Hungarian mining regions.
Then, revolution broke out!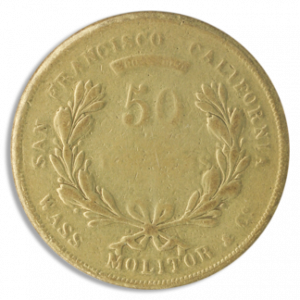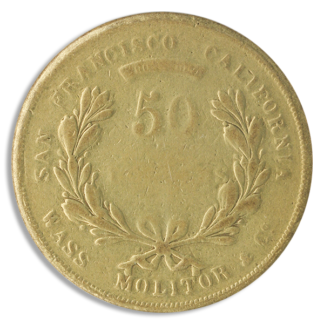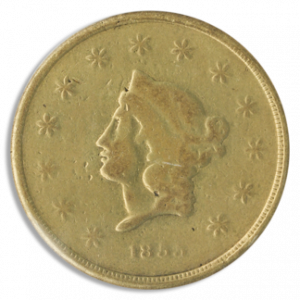 In 1848, Hungarian revolutionaries seeking their independence went to war with the Austrian Empire. After the revolutionary effort was tamped down, Wass and Molitor were among those sent into exile and the pair set sail for America.
Wass arrived in San Francisco in October 1850 and began work in the gold fields. He produced and published a detailed geological report of the region in 1851, which quickly established his expertise in metallurgy and mining.
During the Gold Rush era, the population of California was growing fast and the economy was booming. Coinage was scarce and there still was no U.S. Mint branch in the West.
Californians firmly rejected any move toward paper money to fill the gap. In fact, Article IV section 34 of the 1849 California Constitution outlawed the right for any bank to "make, issue, or put in circulation, any bill, check, ticket, certificate, promissory note, or other paper, or the paper of any bank, to circulate as money."
Yet, people in California desperately needed coinage to conduct every day transactions.
Seizing the opportunity, Wass and Molitor opened an assay office on Montgomery Street in San Francisco in October, 1851. Success soon followed as the hardworking and intelligent Hungarian immigrants created an extensive smelting operation and assay laboratory that was publicly lauded in the local newspapers for its modernity. Soon after, the pair announced they would begin coining small denominations like $5 and $10 gold pieces.
Wass and Molitor's coinage demanded a premium in circulation and were eagerly accepted in trade.
The San Francisco Mint began operations in 1854, which halted private gold coinage. But delays were seen in the western mint's production. In March 1855 a group of prominent merchants and bankers petitioned Wass, Molitor & Co. to resume its coining operations.
Soon after, Wass, Molitor & Co. resumed its coinage business and produced $10, $20, and round $50 gold pieces. The firm made the decision to replace the unpopular octagonal Assay Office slugs, which had sharp edges that pierced people's pockets, with a round $50 gold piece.
The round $50 gold pieces were popular and widely circulated until the San Francisco Mint began striking federal coins in a consistent fashion. By the end of 1855, the private coin firms were no longer needed and Wass, Molitor & Co. shut down.
The 1855 $50 Wass Molitor gold piece represents a valuable piece of numismatic and Gold Rush history. Just imagine the stories these surviving coins could tell as they circulated actively during the rough and tumble boomtown Gold Rush era.
Due to their hefty gold content, many of Wass Molitor coins were melted by the San Francisco branch mint to turn into federal coinage, which makes survivors especially in high grades extremely rare. See one of these $50 gold rarities here.
Want to read more? Subscribe to the Blanchard Newsletter and get our tales from the vault, our favorite stories from around the world and the latest tangible assets news delivered to your inbox weekly.