If you collect rare coins, you are probably familiar with the Winged Liberty Head Dime, popularly known as the "Mercury" Dime.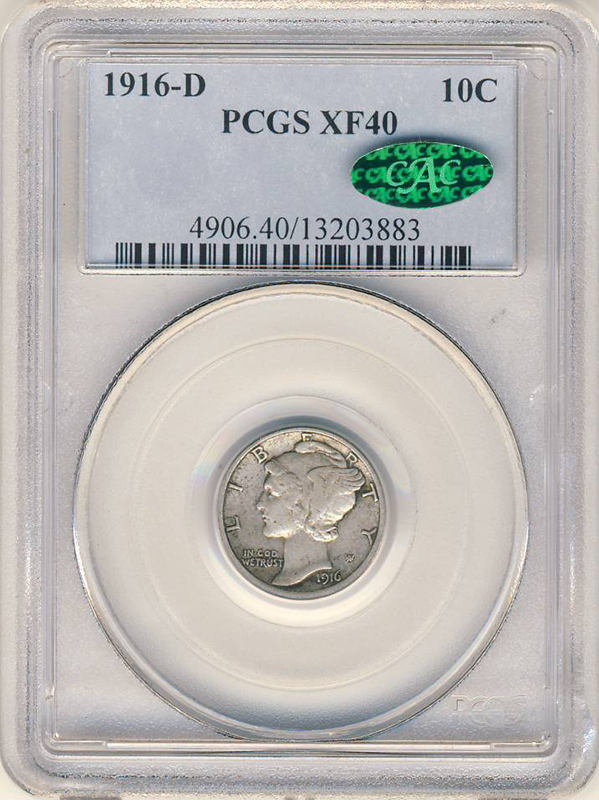 The U.S. mint struck this beloved coin from 1916 until 1945. This is one of the most popular and iconic coins that numismatists acquire for sets. Easy availability of most of the years is one reason that even beginning collector will reach the satisfying goal of owning a Mercury Dime set.
Within the Mercury Dime series, there are only a few absolute rarities and there is only one that is hard to find.
The 1916-D is the scarcest major key date and rarity within the Mercury Dime series. Only 264,000 were struck and we have one. You can see it here. A numismatic collector paid a record $207,000 for the 1916-D back in 2010 for a MS67 specimen.
Why did the 1916-D Mercury Dimes have such a low mintage of only 264,000?
Production of this coin was halted after the U.S. Treasury department entered an urgent order late in the year for 4 million quarter dollars.
Collectors seek to add 1916-D Mercury dimes to their collections due, in part, to its low mintage and because of their unique status as first 'year-of-issue' type coins. Some type collectors only acquire first-year coins.
Renowned sculptor Adolph A. Weinman designed this highly sought after coin. Even during its years of production, collectors clamored to own these coins for their collections.
Some Americans confused the depiction on the reverse of the coin of a young Liberty with the Roman god Mercury, which is how it's popular name caught on. The coin's design received positive reviews within the artistic community. However, some modifications were required as the coin did not perform well in vending machines.
The Mercury dime is struck with 90 percent silver and 10 percent copper and the coin contains just over .072 troy ounces of silver.
Have you embarked on the journey of collecting sets? We'd love to hear about your experiences in a comment below! Many collectors find that their enjoyment of this hobby and investment increases exponentially when you set goals and acquire sets. From a financial perspective, one of the best way to invest in rare coins is to acquire sets. In fact, many collections have been sold as a whole for more than the total value of the individual coins. If you have any questions about the types of sets that could be a good fit for your interests and financial goals, give Blanchard a call today!
Want to read more? Subscribe to our newsletter and get our tales from the vault, our favorite stories from around the world and the latest tangible assets news delivered to your inbox weekly.