In 1851, a U.S. postage stamp cost 3 cents.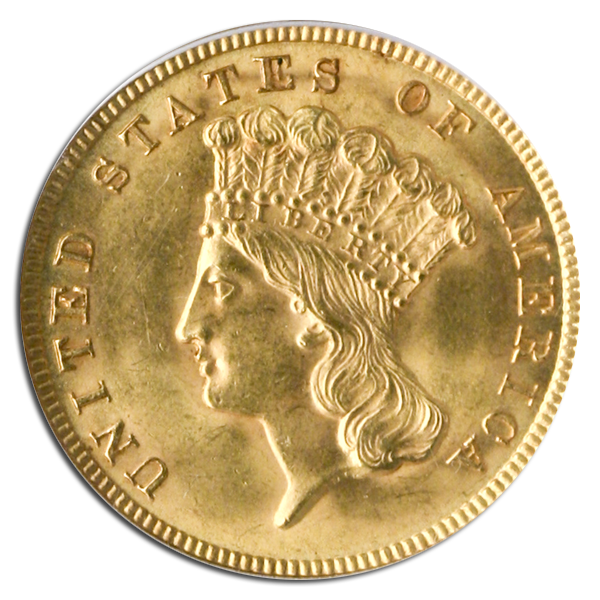 America was growing fast at this time and the California Gold Rush prompted the development of new U.S. gold coins.
The Mint Act of February 21, 1853 authorized a $3 gold coin.
The $3 gold coin matched up with an existing 3 cent silver piece, which was already heralded as a convenient coin for Americans to buy stamps.
Numismatics widely assume that the $3 gold piece was created so people could quickly and easily buy a sheet of 100 first class stamps. The beautiful $3 Indian Princess gold coin is an exquisite example of the close connection between postal and coinage history in our country.
Yet even today there remain questions about the $3 gold coin.
One industry expert wrote that "whether or not the $3 denomination was actually necessary or worthwhile has been a matter of debate among numismatists for well over a century." Despite the mystery around the $3 coin, it remains a highly sought and hard to find gold coin.
Numismatics began collecting the intriguing $3 Indian Princess gold coin as early as 1879. The entire series produced from 1854-1889 saw so many low mintage dates that the entire series is considered rare. The highest mintage of any $3 gold coin was a tiny 138,618. Many were lost to the melting pot in the 1930's, which reduces the number of survivors available today. 
Many consider the $3 Indian Princess the most beautiful gold coin struck in the 19th century. Designed by the U.S. Mint's chief engraver, James B. Longacre, the $3 gold coin was the first time he had been given the freedom to create a design of his own imagination.
Longacre wrote that previous to the $3 gold coin, he had been directed to adapt Roman or Greek features into U.S. coins. For the $3 gold coin, Longacre was determined to create something uniquely American.
"From the copper shores of Lake Superior to the silver mountains of Potosi, from the Ojibwa to the Araucanian, the feathered tiara is a characteristic of the primitiveness of our hemisphere as the turban is of the Asiatic," Longacre wrote.
He was inspired to feature an "Indian Princess" on the obverse of this stunning coin. A lustrous orange-gold color, the coin shows a gorgeous Indian Princess adorned with a feathered headdress, with the words UNITED STATES OF AMERICA circling her. On the reverse, the date and denomination is surrounded by an agricultural wreath celebrating corn, tobacco, cotton, and wheat.
Blanchard currently has just one excellent specimen of the 1854 $3 Indian Princess PCGS MS64 CAC, which is the only year to feature the word DOLLARS in small letters on the reverse.
In 1855, the world DOLLARS was enlarged, amid complaints from the public.
This $3 gold coin boasts excellent eye appeal and is great example of the type.