This One Simple Tip Can Make You a Better Investor
Posted on
— Leave a comment
In real estate, the mantra for successful investing is "location, location, location."
In financial markets, the mantra is "diversify, diversify, diversify."
What is portfolio diversification exactly?
It's as simple as not putting all your eggs in one basket.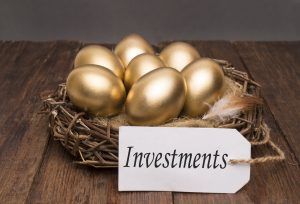 Diversification is a proven strategy
During the 2008–2009 bear market, many investments lost value at the same time. But, proper portfolio diversification helped investors mitigate or lessen overall portfolio losses.
In fact, investors who owned physical gold during that time saw their precious metals investments climb in value, significantly.
The price of gold nearly doubled during the 2008 bear market
Historically, gold outperforms other asset classes like cash and stocks during turbulent times.
From October 2008 into December 2009, the price of gold climbed from $681 an ounce to $1,226 an ounce, or nearly doubled in value!
How to get started
Many people own stocks or exchange traded funds often through their company sponsored 401k plans. However, it is important to take additional steps to ensure a secure retirement and financial future.
Wall Street pros liken diversification to an "All Weather Portfolio" – or investments that will help you build wealth over the long-term, while managing risk and preventing the least amount of losses during bear markets.
Buying and holding physical gold is a critical element to hedge your all-weather portfolio. Financial experts suggest allocating anywhere from 10-25% of your assets to gold.
Gold bullion: a conservative investment
No matter who you are, how much or how little money you have, gold bullion is smart investment for you.  Gold and silver bullion in physical form is an appropriate asset for a small portion of any properly diversified investment portfolio.
Rare numismatics: an aggressive investment
If you are interested in a more aggressive investment, with the potential for outsized returns, rare coin purchases have historically produced the highest long-term investor returns.
Gold bullion is like a dependable utility or consumer staples. Gold bullion helps you to create value over time.
Meanwhile, rare coins are like "growth" stocks, like some tech company stocks that can see their stock price double or even triple in the course of a year.
Due to the limited supply and absolute rarity (the U.S. Mint will never again be able to produce a pre-1933 rare coin,) the prices of numismatics tends to climb faster than physical gold.
What's happening now?
Gold prices are climbing. In fact, in January 2019, gold closed with the fourth consecutive monthly increase in a row. Gold is gaining wide-spread attention from hedge fund managers, high-net worth individuals and mom and pop investors who are looking to diversify their retirement assets. Follow their lead. Diversifying your portfolio can pay off handsomely over the long-term.
Not sure how to get started? Talk to one of our portfolio managers today to learn more. Call us at 1-800-880-4653 or email us here.