There's no denying it, equities had a stellar year, Bitcoin even more so. However, as 2018 draws near major investment firms are making their predictions about the next twelve months and some see a climate forming that could be good for gold investors. Here, we take a look at three trends that may boot the commodity offering some a golden opportunity.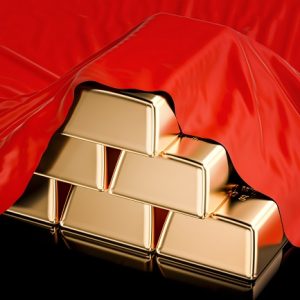 Weak Dollar, Strong Gold
The recent performance of the dollar is in stark contrast to the boom times of the equities market. The dollar has seen its largest annual loss in value since 2003. For 2017 the ICE U.S. Dollar Index which measure the value of the dollar against six other currencies fell 9.8%. Why does this matter to gold investors? Historically, there is an inverse relationship between the U.S. dollar and gold. This relationship stems from the fact that while the U.S. holds more gold than any other country, we do so by importing the metal. These imports, priced in USD, will become more expensive as the dollar falls. Moreover, those who own U.S., debt, namely foreign countries, become less confident in our financial standing when our currency falters. As a result, gold, a safe haven asset, rises.
Geopolitical Concerns Rise and Gold Follows
While other global economies are experiencing the euphoria seen in U.S. markets there are reasons, some argue, to exercise caution. One recent example comes from Germany where Chancellor Angela Merkel's latest attempts to form a government failed. Meanwhile, threatening overtones from North Korea continue to escalate sendinging trepidations throughout the U.S. and countries that neighbor Kim Jong-un's regime. In recent months we've seen examples of the correlation between rising fears of a nuclear engagement with North Korea and the price of gold. In early October gold prices climbed when President Trump increased his resolve to retaliate against Kim Jong-un. Meanwhile angst in Spain is on the rise as a possible Catalonia succession looms and Iran has refused to revise their nuclear deal with six world powers.
History Repeats Itself
It seems that even commodities like gold want to start a new year on the right foot. Case in point: In both December of 2015 and 2016 gold bottomed out in value. This drop was followed by a rally in January of 2015 and 2016 respectively. "Given the fact that gold's previous lows were formed in the past two Decembers, the yellow metal could score a hat-trick if it maintains its rally in early 2018," remarked one analyst at Forex.com. Other analysts at Casey Research compiled nearly 40 years of research dating from 1975 to 2013 showing that gold's second strongest period based on monthly average gain is in fact January notching a little more than a return of 1.5% (September is the strongest).
With these three factors in mind gold investors might just be setting themselves up for success in a market that promises to serve more surprises throughout 2018. Over the long-term, gold offers balance to a diversified portfolio by giving investors an opportunity to profit from key market conditions like those ahead of us.