Three Most Famous Coin Collections
Posted on
— 2 Comments
What do Louis Eliasberg, Bob R. Simpson and Harry W. Bass have in common? They all amassed one of the finest-known coin collections in American history.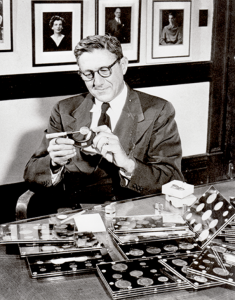 The Louis Eliasberg Collection
Louis Eliasberg was born in Selma, Alabama in 1896, the son of a dry goods and clothing dealer. He wasn't born into wealth and yet he amassed his incredible rare coin collection slowly over time, with hard work, patience and persistence.
Today, Louis Eliasberg is a legend in the numismatic world. Nicknamed the "King of Coins" – the U.S. postal service once delivered a letter to him addressed merely King of Coins USA, with no address.
What makes the Eliasberg collection special? Eliasberg, a Baltimore banker, was the only known numismatic collector who assembled a complete collection of United States regular issue coins ever minted by denomination, date and mint all the way back to 1792. Starting in 1925, Eliasberg began purchasing U.S. coins and achieved his monumental goal by 1950. His collection is considered to be one of the greatest coin collections in U.S. history.
He compiled his entire collection for less than $400,000. After his death in 1976, Eliasberg's unmatched collection passed down to this two sons. Neither of them shared their father's passion for numismatics and eventually auctioned off the coins for an estimated $45 million.
Eliasberg was a man known to distrust paper money and was forever unhappy that FDR removed the United State from the gold standard. In his mind, hard metals were the only currency that was trustworthy.
Bob R. Simpson Collection
Texas oil billionaire Bob Simpson is co-chairman of the Texas Rangers baseball team, a philanthropist and a co-founder of XTO Energy, a natural gas firm acquired by ExxonMobile in 2010.
Simpson, now in his 70's , wasn't wealthy when he began collecting coins as a young boy. While other boys his age were collecting baseball cards, he would go to the bank, get a roll of coins and look for the most interesting. He was searching for Mercury dimes – the most famous, the 1916-Ds, were still being found in bank rolls back then. He also kept an eye out for copper pennies and Walking Liberty half-dollars.
Simpson's collection, which is legendary in coin collecting circles, contains remarkable rarities with a particular focus on U.S. patterns. He purchased several large pattern collections over a period of years, spending more than $36 million on a single pattern collection in 2007. Notably, Simpson was the first person to ever assemble a complete P-D-S set of bronze-planchet 1943 Lincoln cents. That includes a 1943-S bronze cent that he paid $1 million for in 2012. Simpson's collection is ranked by Professional Coin Grading Service as one of the best ever amassed.
In recent years, Simpson has sold off highlights of his legendary numismatic collection, which have so far totaled more than $54 million in sales. In 2021, Blanchard placed a 1910 Proof Gold $2.5 Indian Head, which was part of Simpson's incredible collection.
He views himself as a steward of these remarkable rarities and said recently it is time for someone else to enjoy them. "I think coins should be appreciated almost as artwork," he said. "I have gotten more than enough joy from them." Simpson was asked if he viewed coin collecting as risky? "I viewed it as the opposite, as a haven more than a risk asset," Simpson said.
The Harry W. Bass Collection
Starting in the 1960's, Harry W. Bass, a Dallas born businessman, began collecting U.S. coins and ultimately created one of the most spectacular U.S. gold collections ever.
Notably, Bass assembled a set of virtually all known die varieties of early U.S. gold coin denominations in the finest condition. Bass carefully assembled the only complete collection of $3 gold pieces, including the rare 1870-S; plus a complete collection of U.S. gold coin types from 1795 to 1933; and an impressive grouping of rare U.S. pattern coins.
While Bass passed in 1998 and his collection was largely sold off – the remaining coins are proudly on display at the ANA's Money Museum in Colorado Springs, Colorado.
What's Next For Your Collection?
Blanchard encourages numismatists to acquire rare coins with a collector's mentality. If you build your rare coin portfolio in a meaningful way it can increase the value of your total sum, in addition to bringing you greater personal enjoyment as you learn more about the time period and individual pieces. Many set collections have been sold as a whole for more than the total value of the individual coins.
If there's a coin that you are interested in acquiring or would like advice on how to build a set talk with a Blanchard portfolio manager today. You may not become the next Louis Eliasberg, Bob R. Simpson or Harry W. Bass, but then again, maybe you will.
Want to read more? Subscribe to the Blanchard Newsletter and get our tales from the vault, our favorite stories from around the world and the latest tangible assets news delivered to your inbox weekly.