What Happens to a Buffalo with Three Legs?
Posted on
— 1 Comment
On the American Plains in 1937, a Buffalo with three legs could easily have been shot by a rancher or eaten for dinner by a pack of wolves.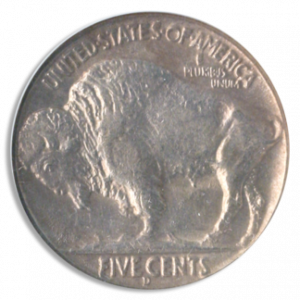 In the rare coin world, however, a 1937 Nickel with a three-legged Buffalo has become a legendary numismatic prize.
You've probably heard of the Indian Head or Buffalo nickel.
Many Americans of a certain age remember these coins surfacing in their pocket change regularly even into the 1970s. Minted from 1913 through 1938, the imposing and memorable coin designed by James Earle Fraser features a handsome Native American on the obverse and a bison on the reverse. It is the believed that "Black Diamond", a North American bison in New York's Central Park zoo, served as the inspiration for the coin's reverse.
In 1937, the Denver Mint produced 17,826,000 of these legendary nickels composed of 75% copper and 25% nickel.
That year, a Denver Mint employee named Mr. Young, took his job quite seriously. He over polished the reverse die with an emery board in an effort to remove clash marks. The result of the excessively polished die variety? The front leg of the Buffalo missing! Hence the Denver Mint created three-legged Buffalo nickels in 1937.
Without a doubt, this is the most famous and highly sought-after key date in the Buffalo nickel series.
Collectors in the late 1930's quickly discovered the Mint employee's error and the 1937-D nickel became a classic even in its own time. These important Buffalo nickels were often pulled out of circulation in 1937 and 1938 as collectors eagerly examined their pocket change searching for this renowned coin.
Numismatic experts note that a unique diagnostic feature of the three-legged 1937-D Buffalo is a stream that appears below the bison's stomach. See a photo of a 1937-D three-legged Buffalo here. Do you see the stream?
Want to read more? Subscribe to the Blanchard Newsletter and get our tales from the vault, our favorite stories from around the world and the latest tangible assets news delivered to your inbox weekly.