Why the China Caixin Manufacturing Index Matters to Metal Investors
Posted on
— Leave a comment
In the U.S. investors are often fixated on the S&P 500, the Nasdaq, or the Dow Jones. Few know of the Caixin Purchasing Managers Index (PMI). Even fewer pay attention to it, but they should. Why? It's an important industrial metal indicator for one of the world's economic powerhouses.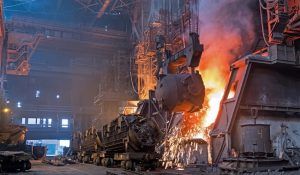 China's Caixin Manufacturing Index is expressed as a number. The figure represents the outcome of a survey of small and mid-sized businesses in China and their appetite for industrial metals like copper and nickel. Why does this matter? China is the world's largest metal consumer and the second largest economy on the planet and the number is rising.
In August the figure reached a six-month high of 51.6. This value beat all expectations signalling a more robust than expected Chinese economy. The head of strategy for Asia Pacific and emerging markets at Merrill Lynch remarked, "The world economy is in a pervasive growth mode where 85 percent of the countries that we track in the world have PMIs that are above 50. That's very, very high and I expect that to continue." China's healthy demand comes not only from industrial expansion and favorable economic tailwinds but also renewed focus on environmental improvement.
Recently, China committed to the average concentration of airborne particles by over 15 percent a year in 28 northern cities. As Reuters explains, "China's efforts to control pollution have often roiled the prices of steel, iron ore and coal with output routinely curtailed as a result of emergency smog regulations and inspection campaigns."
While industrial metals are used for infrastructure projects the measurement has implications for gold. Part of this reason stems from the fact that a strong Caixin PMI figure represents a strong Chinese economy. With a strong Chinese economy comes reinvigorated gold purchases. This is evidenced by an 11% year-over-year increase in coin and bar demand led, in part, by China. These numbers represent not only a commitment to building bullion reserves but enabling growth within the tech sector. The World Gold Council reported that in Q2 of 2017 "Technology demand registered its third consecutive quarter of growth: up 2% to 81.3t. Growth in wireless charging and development of features that use LEDs boosted demand. New smartphone handsets supported chip production."
Components like memory chips are in constant demand. Meanwhile, LEDs, PCBs, and bonding wire are all common electronic parts requiring some amount of gold for production. Simultaneously, "Research into new applications for gold continued to grow" reported The World Gold Council.
Industrial metals build the factories. The factories build components that require gold. This connection underscores the value of a deeper interpretation of the
Caixin Purchasing PMI. The latest measurement comes amid the fastest expansion seen in 37 months.
As the world continues to evolve into a global economy we're witnessing the pervasive effects of China's industrial growth. While supply and demand have enormous influence our "flat earth" economy is so interconnected that even China's environmental policy can impact prices.