Why Your Tangible Assets Portfolio Should Include Rare Coins
Posted on
— Leave a comment
It's commonly know that gold is a great hedge against inflation and a proven portfolio diversifier.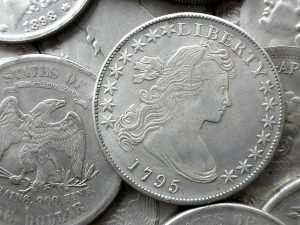 What isn't commonly known is that investments in U.S. rare coins do an even better job at growing your long-term investment returns.
In fact, the investment return on U.S. rare coins over the last 40 years is higher than other assets and TWICE THAT OF GOLD, according to an independent study by Raymond E. Lombra, Ph.D., entitled The Investment Performance of U.S. Rare Coins.
Current Environment Means Investors Need to be Proactive
Heading into the final quarter of 2019, we identify rising macro risks for investors. Here are just five of the risks that dominate the horizon as we cast our eyes into 2020.
Liquidity Crisis: A cash crunch in the repo market starting in mid-September triggered a new round of quantitative easing by the Federal Reserve, through its daily injections of cash into the overnight market. The last time we saw actions like this? Right before the housing crash of 2007, which preceded the Great Recession.

Negative Interest Rates: In a desperate attempt to stimulate economic growth, some developed countries have implemented so-called negative interest rates. Some central banks have turned to this untried "negative interest rate" policy method, which allows rates to fall below zero. Yes, that means you have to pay your bank to hold your savings. Countries that have, or had negative interest rates include the Euro area, Switzerland, Denmark, Sweden and Japan.

U.S. – China Trade War: Recent economic data confirms that the trade war is beginning to slow U.S. and global economic growth.

Stock Market Volatility: The 10-year old bull market in stocks is on its last legs. Increased volatility is a warning signal that a top could be forming now. In the first nine days of October, the S&P 500 registered four daily price swings of 1% or more.

Trump Impeachment Inquiry: Political risks are rising with the Democratic impeachment inquiry and a presidential election in 2020.
Investment Recommendations for Third Quarter
We recommend investors take proactive steps to protect and grow wealth in the face of rising market uncertainty. There are simple steps you can easily take to play defense right now.
Past performance can give us clues about the future.
The appeal of rare coins is their impressive historical price appreciation, which has outpaced gold's returns. Penn State University Professor Raymond Lombra conducted an independent study on the investment performance of U.S. rare coins from January 1979 to December 2016. He found that coins rated MS-65 nearly doubled the performance return of gold over that time.
 
Average Annual % Returns
1979-2018
Stocks
12.4%
Treasury Bonds
7.7%
Gold Bullion
5.2%
Coins (all types – MS65)
10.3%
Coins (all types – MS63-65)
8.8%
Key Takeaway
That data shows if you converted a portion of your gold bullion holdings into rare coins you could double your investment returns on tangible assets over the next two to three years.
Digging into the data, rare coins and gold outperformed Treasury Bonds through numerous business and market cycles.
Dr. Lombra found that annual gold returns were positive in twelve of the past fifteen years.

Rare coin returns were positive in thirteen of the last fifteen years.

Lombra concluded that over the long run, including rare U.S. coins within an existing portfolio could improve investment performance.
Getting Started Is Easy
Take these steps now to reduce portfolio volatility and protect and grow your wealth during the next economic recession and bear market in stocks.
Increase your overall exposure to tangible assets. Experts recommend up to 15-25% depending on your risk tolerance levels.

Add exposure to U.S. rare coins at the MS65 level or better.

Consider converting some of your current gold bullion holdings (likely at a nice profit) into rare coin holdings, which should outperform in the new gold bull market cycle that is just beginning now.
If the U.S. moves back to a zero-interest rate environment like it did during the 2009-2009 global financial crisis or even goes negative, or the stock market crashes, you can expect new all-time highs in gold above the $1,900 an ounce level. Many on Wall Street are already forecasting gold gains to the $2,000 an ounce level.
Just imagine what that will do to the U.S. rare coin market!
If history shows that U.S. rare coins gain twice as much as gold, investments in numismatics could easily double in 2020 and 2021 from current levels.
Incorporating defensive strategies like converting gold bullion into numismatics investments could be a way to more than double your investment return in tangible assets over the next two to three years. A Blanchard portfolio manager can help you develop a personalized investment plan when you call today at 1-800-880-4653.