1 oz Flag Silver Bars
Credit / PayPal / Venmo
$26.20


.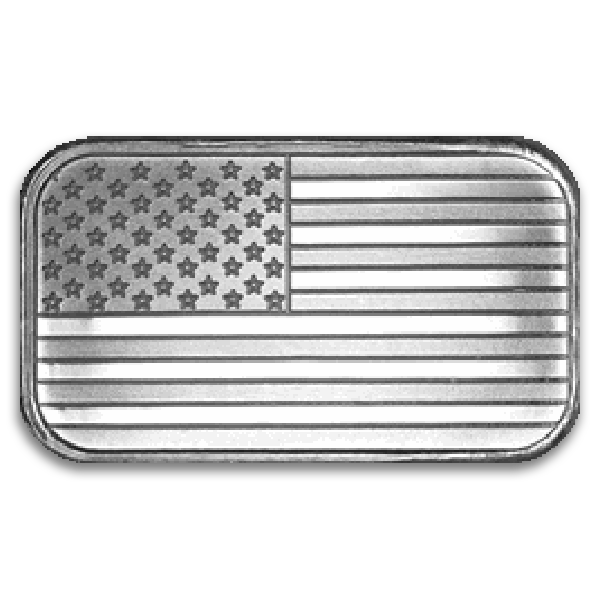 Introduction
The 1 oz. Flag Silver Bars are a popular and patriotic choice for silver bullion enthusiasts. These bars are minted from one troy ounce of .999 fine silver, making them a convenient and affordable way to invest in precious metals. These bars are cherished by collectors and investors alike for their intrinsic value and the sense of national pride they evoke. With its iconic design and high silver content, the 1 oz. Flag Silver Bars hold a special place in the hearts of many and are a symbol of American heritage and freedom.
History
The history of the 1 oz. Flag Silver Bars is closely tied to the rise of the precious metals market and the demand for silver bullion products. While there is no specific origin story for these bars, they emerged as a response to the growing interest in silver as an investment and collectible item. Over the years, various private mints and refineries began producing these bars, each showcasing their unique take on the American flag design. The popularity of the bars grew as collectors and investors sought to own tangible assets with intrinsic value.
Design
The design of the 1 oz. Flag Silver Bars typically feature the iconic and revered image of the American flag. These bars are often rectangular in shape and minted with a high level of craftsmanship to showcase the flag's stars and stripes in intricate detail. The stars, representing the 50 states, are typically arranged in a field of blue, while the alternating red and white stripes symbolize the original 13 colonies. The reverse side of the bars may vary depending on the mint or manufacturer, with some featuring a simple and elegant design, while others display relevant information such as the bar's weight, purity, and the mint's logo. The American flag design on these bars serves as a patriotic reminder and a representation of American values, making them not only a valuable investment but also a cherished collectible for many.