100 oz Silver Bars (Types and Conditions Vary)
Credit / PayPal / Venmo
$2,632.91


High Demand Product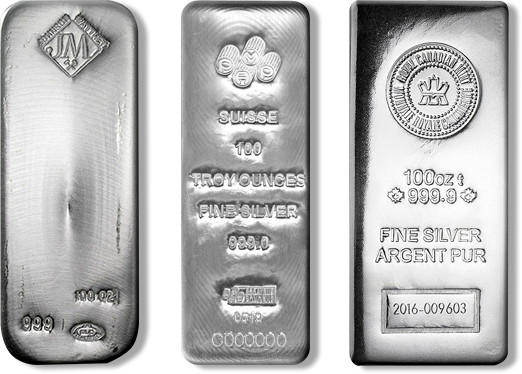 Introduction
The 100 oz. Silver Bars are large and valuable bullion products that offer investors a cost-effective way to gain a substantial amount of silver. These bars typically contain .999 fine silver, ensuring their high purity and intrinsic value. With a weight of 100 troy ounces, they are one of the heaviest and most substantial silver bullion options available. Their popularity lies in their lower premium per ounce compared to smaller bars or coins, making them a favored choice for those interested in silver investment and wealth preservation. Whether acquired for investment purposes or as part of a precious metals collection, 100 oz. Silver Bars represent a tangible asset in the world of precious metals.
History
The history of 100 oz. Silver Bars dates back to the early 1970s when the United States saw a surge in the demand for silver bullion products as a result of increasing interest in precious metals investing. As the price of silver rose and investors sought a convenient and cost-effective way to purchase larger quantities of the metal, mints and refineries began producing 100 oz. Silver Bars. These bars were initially primarily used for industrial purposes, as silver is a vital component in various industries, including electronics, photography, and jewelry. However, with the rise of silver investment and collecting, 100 oz. Silver Bars gained popularity among individual investors and institutions looking to diversify their portfolios and hedge against inflation and economic uncertainties. Over the years, refineries and mints around the world have produced a wide variety of 100 oz. Silver Bars with unique designs and features, catering to both investors and collectors alike. Today, these bars continue to be a sought-after option for silver investment, offering a substantial amount of silver in a compact and stackable form.
Design
The design of 100 oz. Silver Bars is typically simple and functional, focusing on essential information while maintaining a uniform appearance. These bars are cast or minted in rectangular shapes, featuring precise dimensions to ensure consistent weight and purity. The front of the bar often displays important details, such as the weight of "100 troy ounces," the purity, usually denoted as ".999 fine silver," and the name or logo of the mint or refinery that produced it. Some bars may also feature a unique serial number for authentication and tracking purposes. The reverse side of the bar is usually left blank or may have a textured surface for easy stacking and storage.