1911 $10 Indian NGC MS65 CAC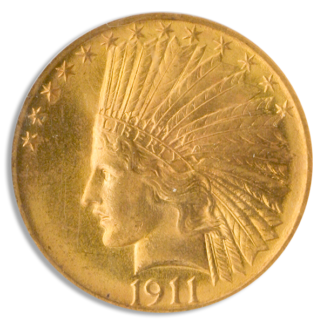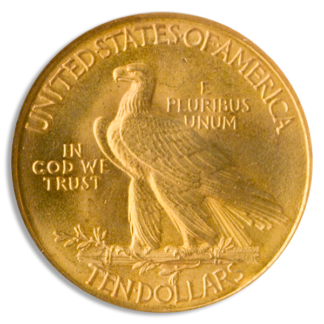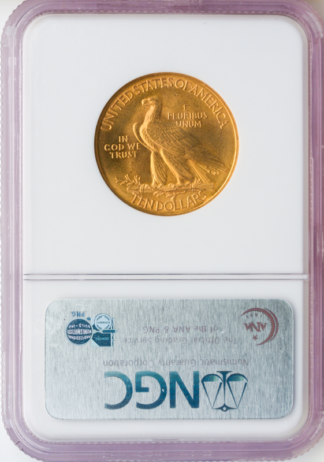 At the behest of new president Theodore Roosevelt, Augustus Saint-Gaudens began to work on new designs for American coinage. The Indian Head is now considered one of his most iconic designs. Roosevelt felt strongly that Liberty's initial laurel crown be replaced by a fully feather Indian war bonnet. Because these coins were low relief, it was possible to begin minting these coins much more quickly than Saint Gaudens high relief Double Eagle.
Bowing to public pressure, Congress ordered the motto IN GOD WE TRUST be placed on the coin, as mandated by the Act of March 3, 1865. The motto was added to the reverse, above the eagle's left shoulder.
Beginning in 1912, the number of stars on the edge of the coin was increased from 46 to 48, reflecting the addition of New Mexico and Arizona as new states to the Union. An additional, extremely minor modification was made to the location of the U in UNUM.
Considered one of the best-looking coins ever to leave an American Mint, Indian Head Eagles are widely collected. Many build complete date and mintmark sets, lacking only the prohibitively rare (and expensive) 1933 issue.
A LITTLE STICKER MAKES A BIG DIFFERENCE.
Within each number of the coin grading scale is a small range of condition from low-end to high-end. Certified coins of the same grade can be of varying quality. Many of today's collectors want coins that are solid or premium quality for their assigned grade. CAC holds coins to a higher standard so you can be confident in the value of yours. We verify previously graded coins … and award our sticker only to those coins that meet the standard for today's selective buyer.
WHAT THE CAC STICKER MEANS:
Verified. Your coin has been verified as meeting the standard for strict quality within its grade.
Guaranteed. CAC stands behind our verification.
THE CAC STICKER IS BACKED BY EXPERIENCE.
CAC was founded by leading members of the numismatic community, including John Albanese, a respected authority on coin grading and the rare coin market.