1/10 oz Silver Round (Types Vary)
Credit / PayPal / Venmo
$4.90


High Demand Product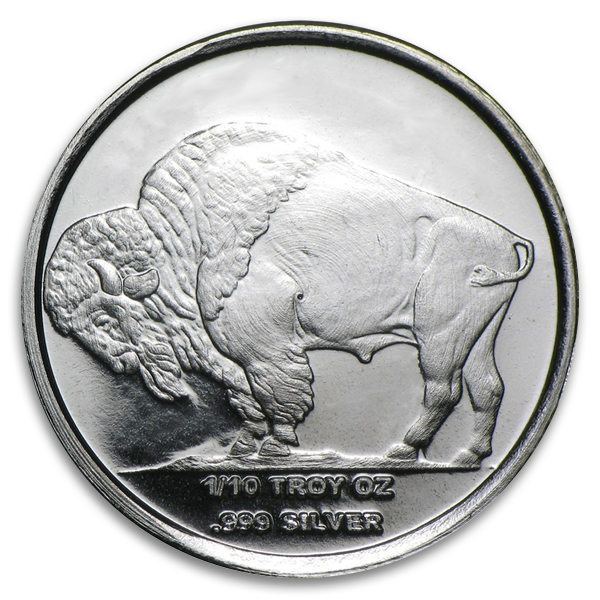 Introduction
The 1/10 oz Silver Round, available in various captivating designs and themes, offers a compact yet compelling glimpse into the world of precious metals. These small but intricately crafted silver rounds are a versatile choice for both collectors and investors, combining the beauty of artistic designs with the inherent value of silver in a conveniently sized package. Whether you seek to diversify your investment portfolio or simply appreciate the aesthetic appeal of silver, these rounds provide an excellent opportunity to do so.
History
The history of 1/10 oz Silver Rounds is relatively recent, emerging as a response to the growing demand for smaller, more affordable forms of silver bullion. These fractional silver rounds became particularly popular in the late 20th century as private mints and refineries recognized the need to provide individuals with accessible options for investing in precious metals. With a weight of just 1/10 troy ounce, these rounds allow for incremental and affordable silver stacking, making them a practical choice for both investors and collectors.
Design
The design of 1/10 oz Silver Rounds is a testament to the creative diversity of private mints and refineries that produce them. These rounds come in a wide range of motifs and themes, catering to the varied tastes of both investors and collectors. Some feature timeless and patriotic designs, such as depictions of national symbols or historical figures, paying homage to the rich heritage of the issuing country. Others embrace pop culture, with themes inspired by popular movies, characters, or iconic symbols. Additionally, many 1/10 oz Silver Rounds commemorate special occasions or historical events, offering collectors the opportunity to acquire pieces that capture significant moments in time. The versatility of these designs makes 1/10 oz Silver Rounds an engaging and customizable choice for those looking to invest in silver with a touch of personal flair.