1 oz Silver Round (BU, Types Vary)
Credit / PayPal / Venmo
$27.72


High Demand Product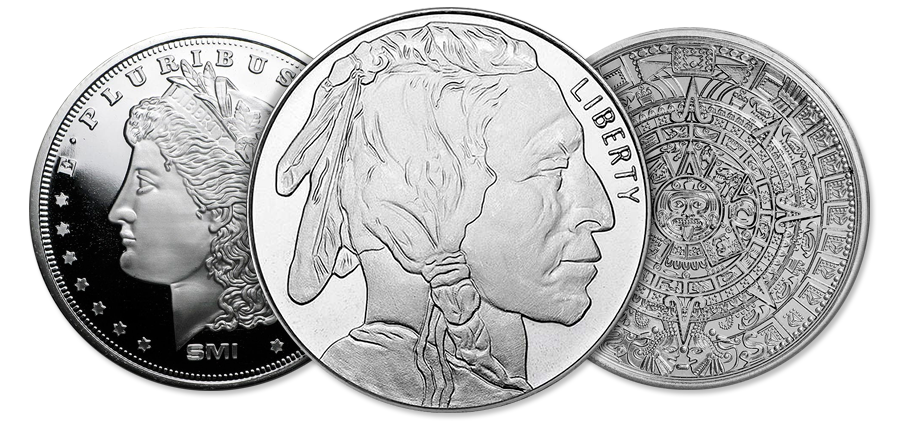 Introduction
The 1 oz. Silver Round, in Brilliant Uncirculated condition, is a popular and widely recognized form of investment in the precious metals market. Minted by private companies and refineries, these rounds are made from .999 fine silver, ensuring their purity and quality. Resembling coins in size and weight but without any legal tender status, silver rounds are an accessible and affordable option for individuals looking to invest in silver. Due to their non-governmental status, silver rounds offer greater creative freedom in design, resulting in an array of themes and styles. The 1 oz. Silver Round provides a tangible and tangible way for investors to diversify their portfolios and own a piece of the precious metal market.
History
The history of the 1 oz. Silver Round can be traced back to the mid-20th century when private mints and refineries began producing these rounds as an alternative to government-issued coins. As the demand for silver as an investment and collectible grew, these private entities saw an opportunity to create rounds with various designs and themes, appealing to a broader audience of investors and collectors. Over the years, the popularity of 1 oz. Silver Rounds has continued to rise, driven by their affordability, ease of storage, and beautiful designs. They have become a staple in the precious metals market, allowing individuals to invest in silver without the premium associated with legal tender coins.
Design
The design of the 1 oz. Silver Round is a key element that sets these rounds apart from other forms of silver bullion. These rounds often feature intricate and artistic designs on the obverse side, which can range from historical themes, national symbols, famous figures, wildlife, to unique patterns and abstract designs. The reverse side typically displays essential information such as the weight, purity, and sometimes the mint's logo or name. The designs are carefully crafted to add aesthetic appeal and collectible value to the silver round, making them attractive to both investors and collectors alike. Because private mints and refineries produce these rounds, they have the creative freedom to experiment with different styles and themes, resulting in a diverse range of options for investors to choose from. Whether depicting iconic images, historical events, or innovative artwork, the design of the 1 oz. Silver Round is a significant aspect that adds character and desirability to these popular silver investment pieces.