1 oz Buffalo Silver Round (BU, Types Vary)


Ships in 1-2 weeks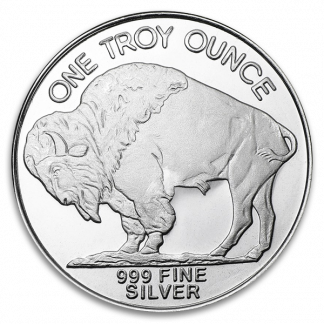 An Easy, Economical Investment Option
The 1 oz. silver round is classified somewhere between
silver bars
and bullion coins. Shaped like a coin and containing one troy ounce of silver, each 0.999% fine-silver round offers an easy way to invest in pure silver. Its premium typically matches the
spot price of silver
, and is often lower than legal tender coins.
History
Since the 1960's, the 1 oz. silver rounds have been popular in the bullion business because they are easy to recognize, value and store. The 1 oz. Silver Buffalo round, released in 2001, is a tribute to the original
Buffalo Nickel
which was designed by James Earle Fraser. It was minted from 1913–1938 as a copper–nickel 5 cent piece, and featured the famous Black Diamond – an American bison in the New York Central Park Zoo. It was designed in honor of America's native tribes and the once-endangered, majestic buffalo.
Design
Each silver round reflects America's heritage and founding principles in its thoughtful design. One of the most popular rounds today is the pictured Buffalo round. It depicts the buffalo and the profile of a native American, which are two of the most iconic images from the history of the American West. The beautifully designed 1 oz. Silver Round Buffalo contains frosted contrasting surfaces, and is struck with a crisp reeded edge for added security. The obverse features a Native American with the word LIBERTY inscribed on the top right. On the reverse is a left-facing profile of an American bison, which was reportedly modeled after Black Diamond – a resident of the Central Park Zoo in New York City. He appears to be grazing on a small patch of land. The phrase ONE TROY OUNCE is imprinted above the bison, with the purity and metal below.