Silver Jumps As Metal Held in London Vaults Sinks to Record Low
Posted on
— 1 Comment
The price of silver jumped to a 4-month high this week fueled by massive investor demand for the metal. This investor demand for silver is now draining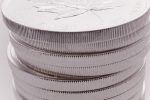 the London vaults of their silver holdings – which fell to a record low in October, according to the London Bullion Market Association (LBMA).
In a year where Americans have faced shortages from items like baby formula to certain prescription drugs to gasoline, silver supplies are now running tight.
The amount of silver stored in London vaults slid to 26,502 tonnes of silver, a 2.2% decrease versus previous month and a record low, according to LBMA. That silver is valued at $16.3 billion, which equates to approximately 883,417 silver bars.

=
Investors from the U.S. and Germany to India Are Buying Silver
Strong demand is driving the reduction in London silver holdings. "The decline reflected the ongoing strength of coin and bar demand, especially in the key U.S. and German markets," Philip Newman, the Managing Director of Metals Focus said.
It's not just the Americans and Germans that are snapping up silver coins and bars this year. In India, silver consumption is forecast to increase by around 80% to a record this year, Bloomberg reported this week.
"Indian October imports appears to have still been sizable, albeit considerably lower than September's near record high of 1,700t. The lower total for October may reflect the impact on the Indian market of higher rupee prices earlier last month. Our Mumbai team noted that silver demand eased somewhat during Diwali, in contrast to gold, which enjoyed double-digit gains during the festival," Newman said.
Precious Metals Demand Surges in 2022
Around the globe, investors are turning to both gold and silver as a safe-haven investment in 2022 amid rampant decades-high inflation, rising interest rates and falling stock and bond markets. Gold demand is also rising, with a 28% jump seen in the third quarter, according to the World Gold Council.
The amount of gold stored in London vaults also fell last month. At the end October, the amount of gold held in London vaults stood at 9,308 tonnes, a 1.4% decrease on previous month. That is valued at $490.5 billion, which equates to approximately 744,662 gold bars, the LBMA reported.
The LBMA's physical metals data includes the holdings of the London commercial vaults and the Bank of England's gold holdings. The Bank of England does not currently hold silver. These figures provide an important insight into London's ability to underpin the physical OTC market.
Silver Poised to Move Even Higher
What does this mean for silver prices ahead? "Silver is well positioned to continuing moving higher, underpinned by investor strong coin and bar demand," said David Zanca. Senior Portfolio Manager at Blanchard. As supplies become tighter, the price will rise.
It's not just furniture or appliances that have long wait times for delivery today, in India, metals investors are seeing wait times for sourcing the silver move sharply higher, with suppliers taking about 20 days to dispatch an order, Bloomberg reported.
Where Is Silver Heading?
The price of silver climbed to $21.82 on Thursday. The white metal is climbing out of a consolidation and basing phase that unfolded in recent months, which confirms a strong bottom in place. Looking higher, the first target for silver lies at $22.50 area with the $26.50 and $27.50 levels as a major multi-month objectives.
Supplies of silver have been getting tighter in recent months, which will continue to support higher prices as investors seek safety from the double-digital declines in paper assets seen in stock and bond markets this year.
This sharp drawdown in silver stocks reveals the on-going shortage economy Americans are navigating through today. Precious metals are an investment that acts as a store of value to preserve, protect and grow your wealth and – big and small investors are adding coins and bars to their portfolio. Consider trading some of your dollars, which are losing purchasing power to inflation into American Silver Eagles coins or Silver bars today.
Want to read more? Subscribe to the Blanchard Newsletter and get our tales from the vault, our favorite stories from around the world and the latest tangible assets news delivered to your inbox weekly.