A New Century, New Coinage: The 1830 Capped Bust Half Dollar
Posted on
— Leave a comment
1807: It was a new century, and it was time for a new coinage.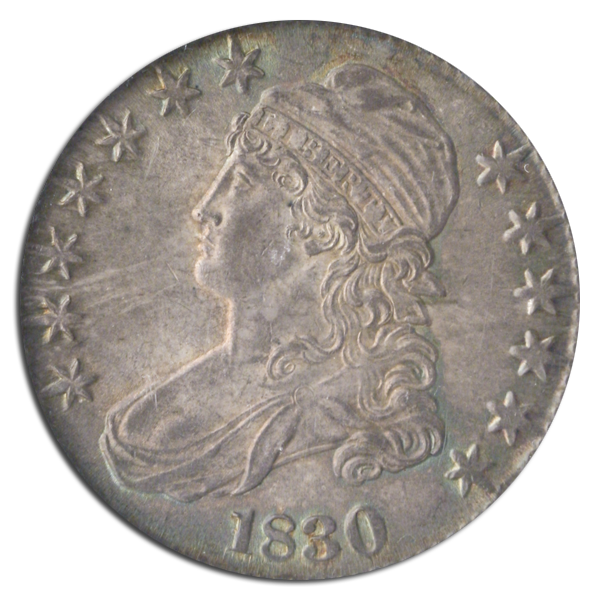 Who better to design our fledgling nation's new coins than an immigrant to America? John Reich was born in Bavaria and learned engraving from his father, who taught him how to make medals.
After Reich moved to the U.S., his work caught the attention of Thomas Jefferson, who recommended him for the position of assistant engraver at the U.S. Mint. Robert Scot, the chief engraver, however, refused an assistant until his poor eyesight required that Reich be foisted upon him. One of Reich's first tasks: redesign all of Scot's coins. (Darn whippersnapper!)
Reich's design for the Capped Bust Half Dollar features the bust of Liberty facing left. She's wearing a cap, called a Phrygian or Freedom Cap, which originated in antiquity and has been used in resurgences of Roman iconography throughout history. In both the American and French revolutions, the cap represented freedom and the pursuit of liberty.
You might even call this a "freedom coin."
The coin's reverse would go on to be featured on much of our silver coinage in the 19th century. It features a bald eagle with wings spread and arrows and olive branches in its talons. A scroll above the eagle's head shows the words "E Pluribus Unum."
Capped Bust Half Dollars are a perennial favorite among investors because of their availability, reasonable price, and large number of varieties.
Call Blanchard today at 1-800-880-4653 for a personalized portfolio review and individual diversification recommendations based on your long-term financial goals and risk tolerance levels.
Interested in reading more up to date market news? Subscribe to the Blanchard newsletter and get our tales from the vault, our favorite stories from around the world and the latest tangible assets news delivered to your inbox weekly.