Investors are starting to think about the start of a new decade. They have reason to question the future. Consider a recent move by Bridgewater Associates, the world's largest hedge fund. The company has placed a $1 billion bet that markets around the world will decline by March of 2020.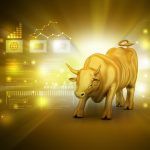 The bet comes at a time of unprecedented prosperity in the S&P 500 which reached 23 highs so far this year. Many, like the leadership at Bridgewater Associates, are questioning if the market can continue its bull run which is already the longest on record. Today, diversification seems as important as ever. For many, investments in gold can serve as an attractive alternative to the uncertainty behind traditional equity and bond holdings.
New research from the World Gold Council provides a far reaching view of what 18,000 survey participants believe about gold. Those included come from India, China, the US, Germany, Canada and Russia.
More than half of those surveyed in the US, India, Germany, and China trust gold more than other currencies, and 67% of all survey participants agreed that "gold is a good safeguard against inflation/currency fluctuations."
The researchers also looked at what drives demand for gold. They learned that there are three key factors underpinning the retail investor's decision to buy gold. The study shows that 44% bought gold to manage risk via diversification or simply by shifting money away from more volatile investments to gold, which they believed to be more stable. The study also reported that 31% bought gold on the "recommendation of a financial advisor or a friend." Finally, 29% bought gold because they believe the price to be low, or experiencing an upward trend.
Those buying gold are likely to be focused on the long-term. The research shows that 64% of those who have previously invested in gold would purchase again in the future. Those who have not purchased gold are taking note of the loyalty existing gold purchasers display. Of those surveyed who have never purchased gold, 38% stated that they are open to buying in the future.
It is also interesting to note that despite the timelessness of gold and it's longstanding place in the history of commerce, many of those who buy today are being driven by robo-advisors. These programs, driven by algorithms, provide investment recommendations after considering a host of data input by the user. The data indicates that in China 45% of retail investors use this technology to formulate their investment plans.
These robo-advisors appear to be filling a knowledge gap given that the same data shows that half of the participants said that they never hear the media mention gold. Moreover, two-thirds of retail investors stated that they lack the knowledge they believe is necessary to buy gold. Of this group 28% state "I don't know enough about it to buy it," and 22% state "I don't understand what drives price." It is clear that the value of more research into gold would help investors construct more diversified portfolios.
As 2020 nears investors have an opportunity to rebuild their portfolios to embrace the looming uncertainty in the investment market and the world at large.
Call Blanchard today at 1-800-880-4653 for a personalized portfolio review and individual diversification recommendations based on your long-term financial goals and risk tolerance levels.
Interested in reading more up to date market news? Subscribe to the Blanchard newsletter and get our tales from the vault, our favorite stories from around the world and the latest tangible assets news delivered to your inbox weekly.