Don't Expect Lower Gold Prices to Last Long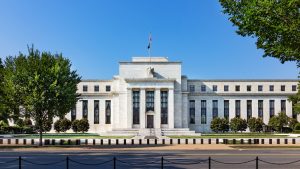 Gold prices tumbled $50 an ounce this afternoon (at the time of writing) after the Federal Reserve announced earlier than expected interest rate hikes.
In March, no Fed officials expected interest rate hikes in 2023.
Today? The new Fed projections point to two interest rate hikes in 2023.
The Fed pointed to hotter inflation and faster economic growth as the reason for the change.
The Fed slashed its benchmark interest rate to zero in March 2020 as the Covid crisis triggered a recession and stock market crash.
Despite recent inflation data which showed consumer prices at their highest level since 2008, the Fed is continuing to hold interest rates at rock bottom zero percent level. Even today's new estimates don't project interest rate hikes for at least 18 months.
What is the Fed waiting for?
The Fed, the economy, the stock market – everyone is hooked on easy money policies. Despite evidence of fast economic growth and rising inflation – interest rates are stuck at zero.
Expect today's pullback in gold prices to be short-lived.
Why? The Fed is ignoring the inflation data.
The Fed is continuing to buy $120 billion in Treasury and agency securities each month. The easy money policies are here to stay, despite hard evidence that inflation is rising.
Billionaire hedge fund manager Paul Tudor Jones recommended buying gold this week.
"If they [the Fed] treat these numbers — which were material events, they were very material — if they treat them with nonchalance, I think it's just a green light to bet heavily on every inflation trade," Jones told CNBC's Squawk Box.
Here's what Jones, who called the stock market crash in 1987, advised on Monday:
"Go all in on the inflation trade."
"Buy gold."
Inflation rose 5% in May. The economy is expanding at a 10.3% growth pace in the second quarter, according to the Atlanta Fed's GDPNow real-time model.
And, the Fed is doing nothing?
While you can't control the Fed – you can act now to protect your wealth. Have you considered buying more gold? Today's lower prices won't last long.
Want to read more? Subscribe to the Blanchard Newsletter and get our tales from the vault, our favorite stories from around the world and the latest tangible assets news delivered to your inbox weekly.