Gold Soars As Bank Failures Spark Worries of Larger Crisis
Posted on
— Leave a comment
In a span of 10 days in mid-March, gold surged 9.8% higher as investors parked cash in the safety of precious metals. A loss of confidence in the banking sector is spreading following the nation's second and third-largest bank failures. While the Federal Reserve pumped $300 billion in credits to banks in mid-March, investors and depositors remain skittish – and gold is shining bright in its role as a safe haven.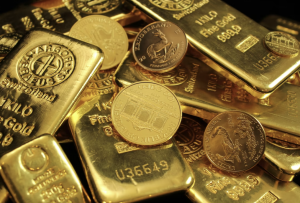 As you know, on March 10 and March 12, Silicon Valley Bank in Santa Clara, CA, and then Signature Bank in New York NY failed – meaning they shut their doors permanently and depositors could no longer get their cash. What's more, teetering First Republic Bank got a $30 billion bailout in the last few days from a deal between eleven giant banks.
Simply put, banks fail when they can no longer meet their obligations to their depositors or creditors.
What caused these 2023 bank failures? The recent spate of bank failures can be blamed on a number of factors including the Federal Reserve's rapidly rising interest rate campaign, a collapse in technology stocks, and the blowout in the speculative cryptocurrency sector. Add in bad risk management by bank managers and you have bank failures.
What may come next? While we don't have a crystal ball, Blackrock CEO Larry Fink's recent insight on the banking turmoil is instructive:
"The price of easy money – are the dominoes starting to fall?"
The Fed took away the easy money punch bowl and look what happened.
Every day Americans, businesses big and small, and even governments are trying to adjust to the end of the easy money, zero-interest rate punch bowl that the Fed left out on the table far too long.
Since the 2008 global financial crisis, the Fed kept interest rates at abnormally and historically low levels for over a decade. With those ultra-low, near-zero interest rates, the Fed lit the match of the inflation that has now turned into a raging fire that even the most powerful fire engines aren't able to douse.
Money managers are warning: This isn't the end of the financial sector instability, it may be just the beginning.
Gold is insurance for your wealth
The current spate of big bank failures are a reminder of how important it is to take risk management seriously.
When you buy a home, you buy home insurance to protect your dwelling in case of storm damage, theft, or fire. When you buy a car, you buy car insurance to protect against an accident that wrecks your new vehicle. As you build your wealth and work toward your financial goals, investing in precious metals offers you the same ability to buy insurance and protect your wealth.
As we've seen in mid-March when banks collapse and the stock market sinks, the price of gold climbs. Precious metals ownership gives you the opportunity not only to protect but to grow your wealth with the safety of gold and silver. Do you own enough?
Want to read more? Subscribe to the Blanchard Newsletter and get our tales from the vault, our favorite stories from around the world, and the latest tangible assets news delivered to your inbox weekly.