Inflation sped up in April. The stock market is rattled. Gold is climbing.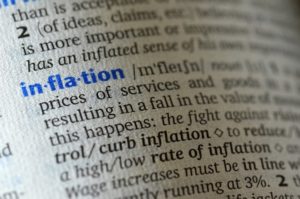 Investors are turning to gold as a hedge against the ever-rising inflation risk. Buyers drove gold to its highest level since early February this week. Gold now trades above $1,880 an ounce.
Consumer prices jumped 4.2% last month. That marks the fastest pace since 2008.
The recipe for classic inflation exists: too many dollars chasing too few goods.
People have money to spend and are eager to get back to normal post-pandemic level. We've got lots of dollars flowing around in the economy, thanks to the Fed. Indeed, money supply growth has climbed substantially since February 2020. The Federal Reserve has been buying bonds every month on the open market, which pumps new money into the banking system.
We've got shortages and panic buying – which is helping drive consumer prices higher.
Used car and truck prices surged a record-high 10% in April. A jump in travel opened the door to sharply higher prices on airfare, hotels and rental cars. Lumber prices rose a whopping 124% in 2021 amid huge demand for building materials. Copper has jumped 36%. There is a semi-conductor shortage.
Yet, the Federal Reserve continues to downplay the recent rise in inflation calling it "transitory."
The big jump in April consumer price report intensified the inflation debate. Is it merely "transitory" as the Fed suggests?
Or, is this the start of a much bigger spike in inflation that could quickly become runaway inflation as the Fed sits on its hands with its easy money policies and interest rates at zero?
Corporations are worried too. On earnings calls this spring, executives at S&P 500 companies mentioned the word "inflation" four times more than just a year ago.
Everywhere you look, consumer prices are rising. Meanwhile, the Federal Reserve may already be behind the curve. The ticking time bomb of inflation has already gone off.
Gold has climbed $200 an ounce since the end of March.
A new bull market is beginning in gold and inflation is just one of the reasons investors are turning to the safety of precious metals. When you diversify with gold and precious metals, you can help protect your wealth from the risks facing the stock market and the U.S. dollar from inflation. Once inflation picks up steam, it can be very hard to put the genie back into the bottle. Are you ready?
Want to read more? Subscribe to the Blanchard Newsletter and get our tales from the vault, our favorite stories from around the world and the latest tangible assets news delivered to your inbox weekly.