The price of gold exploded higher last week, climbing to a fresh 9-month high above $1,900 an ounce. Gold is shining once again as investors believe that a minor drop in the headline inflation rate in December will slow the pace of Federal Reserve interest rate hikes, which is already boosting demand for the precious metal.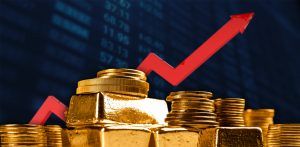 Gold traded as high as $1,921.50 last week as investors are flocking to the precious metal following the release of the December consumer price index (CPI) report. While the overall inflation rate fell to 6.5%, many key categories continued to see double digital price gains in December.
According to the Bureau of Labor Statistics, these categories continued to rise sharply in December.
How Much More You Are Paying Now

That means you are still paying sharply higher prices for everyday goods from eggs, milk, butter, and bread to homes, rent, new cars, and even the energy to heat your home and keep you warm during the cold winter months.
Slower Fed Rate Hikes Ahead
The inflation news unleashed a fresh round of gold buying as investors expect the modest decline in the headline number from 7.1% in November to 6.5% in December, will allow the Fed to slow down its aggressive interest rate hikes – which at this point are expected to trigger a recession in the United States in 2023. Despite the 2022 rate hikes, core inflation remains well above the Fed's 2% inflation target.
The CME Group's FedWatch Tool now reveals that 91.2% of traders expect the Fed to hike by only 0.25% — which would reveal a massive slowdown from the 0.75% interest rate hikes seen in 2022.
Recession Ahead
The damage from the Fed's 2022 aggressive interest will soon show in the form of a recession. There is a well-documented lag between monetary policy and its impact on the economy. Here's what Wells Fargo Economics says: "We expect a recession to begin in the United States in the second half of the year."
Gold Is In an Uptrend
What does this all mean for gold? You can expect even higher prices ahead, with gold possibly at $2,000 an ounce, just around the corner.
"This year the global economy is facing a serious slowdown, and in many countries a recession. That could make gold more appealing now that yields and the dollar are less of a negative factor," Craig Erlam, senior market analyst at OANDA told CNN.
In the face of stubbornly high inflation and the potential for a recession in the U.S., investors are flocking to the safety and security of gold. Precious metals have served as a store of value for thousands of years. If you are seeking a safe haven and also an asset that will grow your wealth, consider increasing your allocation to gold and silver today before prices move sharply higher.
Want to read more? Subscribe to the Blanchard Newsletter and get our tales from the vault, our favorite stories from around the world and the latest tangible assets news delivered to your inbox weekly.