There is a psychological phenomenon known as "Recency Bias." Financial advisers have discovered that investors often fall prey to this tendency, where individuals remember most easily something that has recently happened as opposed to circumstances from awhile back. 
How does this relate to investing and the markets? Investors sometimes have short memories.
Here's a Quick Quiz: What do you remember most about the stock market in 2016?
The dramatic stock market plunge in January 2016 which saw the S&P 500 drop like a rock from the opening bell amid fears the Chinese economy could trigger a global recession?
A. The S&P 500 plunged from 2043 on Dec. 31, 2015 into the Feb low at 1810 a swift 11.40% decline in roughly six weeks
or
B. The rally to new all-time highs in the S&P 500 in December 2016
If you answered "B" you aren't alone. For most investors the stock plunge 12 months ago is distant history.
Here's another question: What do you remember most about the gold market in 2016?
A. The 29% rally in gold prices from January-July 2016
or
B. The post-presidential election sell-off in gold which tugged the market from a high at $1,341.00 per ounce on Nov. 9 to a low at $1,124.30 on December 15
Don't fret. If you answered "B" you aren't alone.
Investors easily remember the most recent history and sometimes erroneously make decisions about their portfolio based on that.
Solid Yearly Gains In Gold And Silver
Gold scored a solid 8.68% gain year-to-date through Dec. 30, while silver gained almost double that at up 16.04% on the year. It might not feel like that though since the markets have tumbled off their summer highs.
It is worth acknowledging the existence of the Recency Bias and more importantly using the information to make objective decisions about your portfolio.
Gold: The Long-Term View
While nearby gold futures traded in a range from $1,055 -$1,387 per ounce in 2016 that is a far cry from where it traded in 2000 and 2011. Let's take a look at Figure 1 below a monthly chart of nearby gold futures.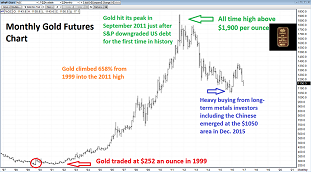 Gold is near levels where heavy physical buying emerged from long-term investors in 2015. That means metals could be approaching a good buying opportunity. Don't get tripped up by the Recency Bias. Take the long-term view, especially when it comes to your investments.