The Allure of Peace Dollar Collections: History, Key Dates & Design
Posted on
— 5 Comments
The silver Peace Dollar, minted between 1921 and 1935, represents one of the most celebrated and lasting designs in numismatics. Its simple beauty, its connection to the peace that followed World War I and its unique status as our country's last circulating silver dollar make it a highly sought-after coin series among collectors. While many are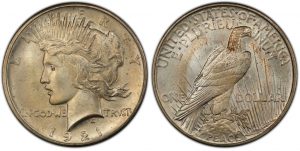 familiar with this coin, what is less widely known is how scarce Peace dollars are in high grades.
Peace Dollar History
After World War I ended, numismatic collectors advocated for a coin to celebrate and commemorate the peace after the "war to end all wars." Farran Zerbe, President of the American Numismatic Association from 1908 to 1910, first proposed the idea of a coin that symbolized America's role in the peace process.
Peace Dollar Design
A design competition for the new coin was announced. A 34-year old Italian sculptor named Anthony de Francisci won the honor of designing this important coin. De Francisci's stated goal for this coin was to "capture the spirit of the country—its intellectual speed, vigor, and vitality."
The Peace dollar obverse reveals a portrait of Miss Liberty facing left, wearing a stunning radiating crown. On top LIBERTY encircles her crown, and IN GOD WE TRUST and the date lie below. The reverse of the silver Peace Dollar features a bald eagle, resting on a rock, clutching an olive branch above the word "PEACE." Rays of sunlight brighten the background.
De Francisci created two different designs for the coin's reverse. The key difference? One version featured an eagle breaking a sword while the other was holding the olive branch. Initially, the design featuring the broken sword was considered. After a public outcry voiced concerns this represented defeat, the broken sword was quickly removed from the coin's design and the more peaceful looking olive branch design was chosen.
Minting Began in 1921
The silver Peace dollar was issued under the terms of the Pittman Act. That act required the U.S. Mint to strike millions of silver dollars, which began in 1921 initially using the Morgan dollar design. Treasury Secretary Andrew Mellon approved the Peace dollar in December 1921.
While just over one million 1921 $1 High Relief Peace dollars were minted in Philadelphia, the majority met their fate in the melting pot. The high relief was deemed impractical for coinage and was quickly modified to "low relief" in 1922.
Survival estimates in all grades of the 1921 $1 High Relief Peace total 100,000 with only 5,000 in grades 65 or better.
Today, collectors are attracted to the coin not only for its scarcity in certain grades and dates, but also for the Peace Dollar's historical significance recognizing America's role as an international power, while also honoring the sacrifices our citizens made in first World War.
Completing a Set
There are a variety of options for Peace dollar collections including lower-cost sets to an ultra-pedigree collection. It takes 24 different combinations of dates and mint marks to complete a set.
One strategy for completing a Peace Dollar collection is to acquire the first four Philadelphia Mint issues of 1922 through 1925. These dates represent the first four years of issues for the "low relief" version of the Peace Dollar and create an outstanding set of four with consecutive dates.
The first-year 1921 is one of the scarcest Peace dollars in both circulated and mint state condition. This coin is considered a very important one-year-only silver type coin.
If you desire to collect a key date Peace Dollar, consider the 1928 Peace Dollar minted in Philadelphia, which stands as the smallest production year of this coin with only 360,649 struck.
While MS-63 coins are fairly easy to obtain, quality MS-65 and higher grades are quite rare. See an example of a certified MS-66 Peace dollar here.
There are many strategies for collecting Peace dollars. If you'd like more information on a collecting strategy that fits your budget and investing goals, contact a Blanchard portfolio manager for personalized recommendations. Your Blanchard portfolio manager can also help you source certified dates in this series.
Want to read more? Subscribe to the Blanchard Newsletter and get our tales from the vault, our favorite stories from around the world and the latest tangible assets news delivered to your inbox weekly.