This Silver Commemorative Boasts One of the Most Complex Designs You've Ever Seen
Posted on
— Leave a comment
To celebrate the 200th anniversary of Norfolk, Virginia's growth from a township first formed in 1682 to a royal borough in 1736 – an exciting commemorative silver half dollar was struck – the 1936 Norfolk Virginia Bicentennial.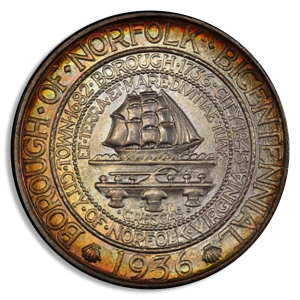 A husband and wife team – William and Marjorie Simpson created the elaborate design for the Norfolk Bicentennial silver half dollar which honors the city's seaport heritage. It might be one of the most complex designs you've ever seen on a coin.
The obverse of this robust coin features a sailing ship placed atop stylized waves and above a plow and three bundles of wheat. A Latin legend is shown above the ship: ET TERRA ET MARE DIVITIAE, which is translated as "Both by Land and by Sea the Riches are." The coin lists a number of key dates in this cities rich history including the anniversary date of 1936. Lovely scallop shells surround the date on the bottom
The reverse of the Norfolk half dollar reveal a striking Royal Mace and includes the date of the original land grant and the coin's value HALF DOLLAR, as well as the legends found on many U.S. coins including IN GOD WE TRUST, E PLURBIUS UNION and LIBERTY.
A total of 16,936 Norfolk Bicentennial half dollars were distributed. While this coin is dated 1936, it was actually struck in September of 1937 at the Philadelphia mint.
Coin experts say only 9,000 of these gems survive today at the 65 or higher grade. We have one of these remarkable beauties graded PCGS MS67 CAC.
The 1936 Norfolk Commemorative Half Dollar is an integral part of American coinage. In fact, Norfolks are an essential element of the 50 piece 1892-1954 silver commemorative type set. Numismatists have enthusiastically collected these special commemorative silver pieces since they were first distributed in 1937.
Today Norfolk has grown into a thriving metropolis with a population totaling 238,005 – making it the third largest city in the state of Virginia. The historic financial center is also considered to be the cultural center of the region. Bordered by the Elizabeth River and Chesapeake Bay, the city also has a long history as a strategic military and transportation hub.
Interested in owning this unique rarity? Act now. Rare coins are moving fast in today's market.
Want to read more? Subscribe to the Blanchard Newsletter and get our tales from the vault, our favorite stories from around the world and the latest tangible assets news delivered to your inbox weekly.