It is often called one of the most beautiful U.S. coins.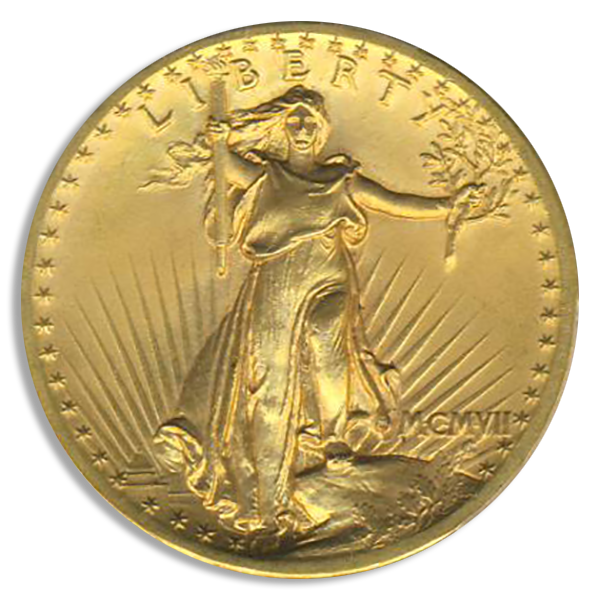 For serious collectors, the impressive 1907 High Relief Double Eagle designed by Augustus Saint-Gaudens is often their first major purchase. For others, this prized $20 gold coin represents an aspirational trophy, which is highly coveted in the numismatics world.
What makes this unique coin so special?
For starters, the story behind the development of these coins is legendary.
Affectionately known as "Saints," these awe-inspiring coins exist due to the partnership between two monumental historical figures of their day.
Not a big fan of American coins in circulation President Theodore Roosevelt called their design "atrocious hideousness." He set out to rectify that.
President Roosevelt began his vision to reshape the nation's coinage unleashing the majestic talent of Augustus Saint-Gaudens, a brilliant sculptor of that time. As the story goes, at a Washington dinner party one evening, Roosevelt tasked Saint-Gaudens with the grand undertaking to redesign America's gold coins.
Both men admired Greece's ancient coins and agreed that U.S. gold coins developed in that fashion would be a monumental achievement. They were right. Today, 113 years after this coin was minted, it still takes your breath away.
High Relief Made Coin Difficult to Stack
There is a relatively high survival rate of the mintage of just over 12,000 of the 1907 High Relief Double Eagles. Rumor has it, collectors immediately started acquiring these coins right after their minting.
These Saints were intensely desired due to their unique High Relief pattern. While the high relief is one of the features that collectors most admire today, it was also the reason the coin pattern was not continued. The high relief pattern, while beautiful, created problems for bankers who wanted to stack coins in back offices and also challenges in everyday commerce.
Other Unique Characteristics of 1907 Saints
The obverse of the coin shows the date in Roman numerals!
Also, the omnipresent IN GOD WE TRUST motto is noticeably absent from this coin. President Roosevelt believed the coin could be used for ungodly activities like gambling (or worse!) and did not want the name of God used on the coin.
The Coin's Appearance
If you haven't held a $20 Gold Double Eagle in your hand, imagine this.
The obverse showcases a dramatic full-length portrait of Liberty in a flowing gown, heralding a torch in her right hand and an olive branch in her left. She is featured in full stride with rays of sunlight behind her. Above her the word LIBERTY sits atop the coin.
Subscribe to our newsletter! Get our tales from the vault, our favorite stories from around the world and the latest tangible assets news delivered to your inbox weekly.