Why the Shield Nickel Earned an Important Place in Numismatic History
Posted on
— Leave a comment
At the start of the Civil War, the United States government halted specie payments – or the mechanism by which citizens could turn in their paper money and redeem it for gold or silver. This led to widespread hoarding of gold and silver coins during the war and these coins disappeared from circulation.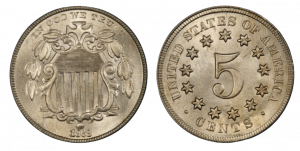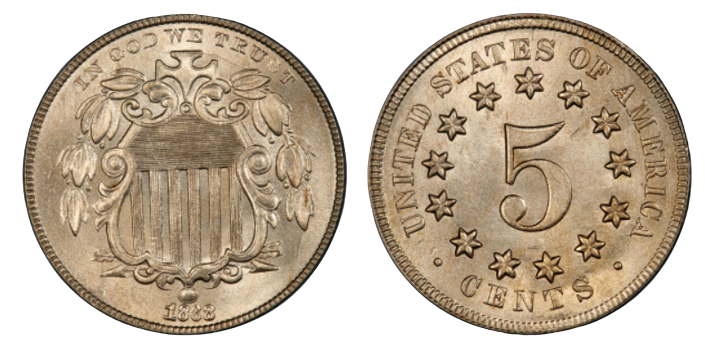 In order to alleviate this crisis, Congress authorized the creation of five-cent coins made of a 75% copper-25% nickel blend.
Today known as the Shield Nickel – this prized coin marks the point in history when 5-cent coins stopped being minted as small silver disks and became the base metals coins they still are today.
The Shield Nickel was issued from 1866 through 1883 – and the series boasts two proof-only years (1877 and 1878). The Shield Nickel proofs can indeed be elusive for collectors to find and these years stand as one of the great classic rarities among the late 19th-century proof coins.
Mint Engraver James Barton Longacre designed the new nickel. The obverse features a large shield with arrows intertwined at its base. A lovely wreath hangs over the shield with a cross at the top. The date is marked at the bottom with the motto IN GOD WE TRUST in small letters around the top. On the coin's reverse, a large numeral 5 is the feature, surrounded by 13 small stars and 13 glory rays as well. At the top reads the UNITED STATES OF AMERICA with the word CENTS at the bottom.
Mint officials discovered the hard way that the inclusion of the rays on the reverse was problematic due to the combination of metals. The copper and nickel together created a very hard planchet that was difficult to fully strike with the intended designs. To correct this problem, mint officials ordered the removal of the rays in mid-1867, creating two varieties: With Rays and No Rays. However, striking problems persisted, resulting in a series of coins noted for inconsistent strikes and die cracks.
For collectors interested in building a series of Shield Nickels, circulated coins and those in lower Mint State grades are relatively easy to obtain. However, gems are rare and the survivor rate for all years falls dramatically above the MS 66 level. The early mintages are fairly large, yet the series boasts tiny mintages as well which creates intrigue around building a complete set.
Is it an everlasting contribution to our nation's coinage? Today, the Shield Nickel is the reason we refer to five-cent coins as nickels.
Want to read more? Subscribe to the Blanchard Newsletter and get our tales from the vault, our favorite stories from around the world and the latest tangible assets news delivered to your inbox weekly