World's Largest Memorial to Confederate Leaders
Posted on
— Leave a comment
Since the days of the ancient Greeks and the Romans, commemorative coins have been popular as they honored important historical events.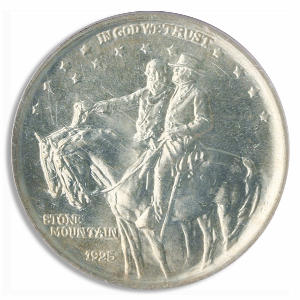 The 1925 Stone Mountain Silver Half Dollar is a prime example.
America's largest Confederate Memorial is carved 42 feet deep and 400 feet above the ground on the side of a huge granite mountain in Georgia. It features three great Civil War generals: President Jefferson Davis and Generals Robert E. Lee and Thomas J. "Stonewall" Jackson, all sitting astride their favorite horses.
How did this dramatic and historic monument come to be?
In 1915, Mrs. C. Helen Plane, a member of the United Daughters of the Confederacy, spearheaded the drive to create the grand memorial. She chose the American sculptor Gutzon Borglum to create the massive monument. Borglum later became famous for his colossal sculpture at Mount Rushmore.
Before beginning the project, Borglum famously said:  "The Confederacy furnished the story, God furnished the mountain. If I can furnish the craftsmanship and you will furnish the financial support, then we will put there something before which the world will stand amazed."
Funds were sorely needed to support this grand undertaking,
The Stone Mountain Confederate Monumental Association decided to raise funds for the project via a commemorative coin.
With support from President Calvin Coolidge, a bill passed on March 17th, 1924 authorizing the creation of silver half dollars to commemorate the soldiers of the South.
Borglum created the models for this stunning silver half dollar coin which was struck in 1925 at the Philadelphia Mint.
The obverse of the 1925 Stone Mountain silver half dollar features Generals Robert E. Lee and Stonewall Jackson on horseback.
Around the top is the motto IN GOD WE TRUST. Below on the left is STONE MOUNTAIN 1925.
The reverse reveals a stoic and imposing eagle perched on a rock with his wings outstretched. Above the eagle you can see the words: UNITED STATES OF AMERICA and E PLURIBUS UNUM. To the Eagle's left is the inscription MEMORIAL TO THE VALOR OF THE SOLDIER OF THE SOUTH. LIBERTY and HALF DOLLAR are seen below.
A total of 1,314,709 Stone Mountain silver half dollars were distributed. They were offered above face value at $1.00 each.
The gargantuan carving project, which began in 1916, was beset with numerous interruptions and delays.  In fact, it wasn't until 1970 that the historical monument project was actually completed.
Today, over 4 million people visit Stone Mountain Park in Georgia each year to see the largest bas-relief sculpture in the world.
We have just one 1925 Stone Mountain silver half dollar. See this historical gem here.
Want to read more? Subscribe to the Blanchard Newsletter and get our tales from the vault, our favorite stories from around the world and the latest tangible assets news delivered to your inbox weekly.