1 oz American Buffalo Silver Round Coin (BU, Types Vary)
Credit / PayPal / Venmo
$26.70


High Demand Product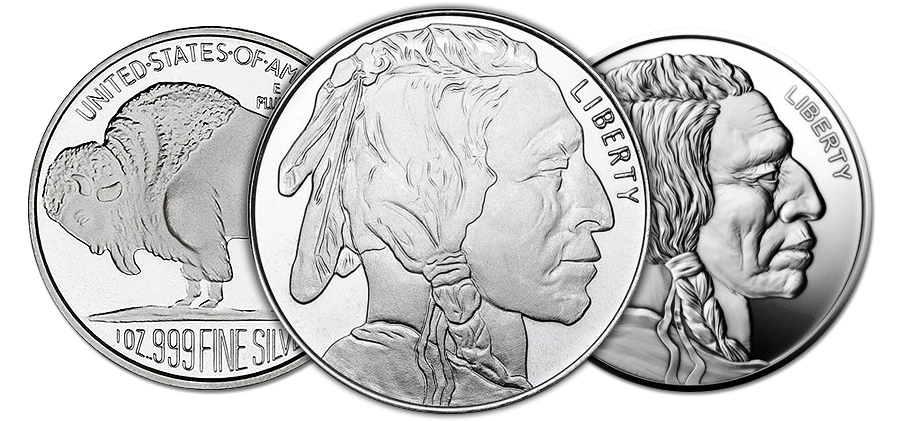 Introduction
The 1 oz. American Buffalo Silver Round, in Brilliant Uncirculated condition, is crafted with one troy ounce of .999 fine silver. This round features a design inspired by the iconic Buffalo Nickel, first minted in 1913. While it carries no face value, the 1 oz. American Buffalo Silver Round holds significant value for both collectors and investors, making it an attractive addition to any collection. Its beautiful design and affordable pricing have made it a popular choice among those seeking to own a piece of American history in fine silver form.
History
The history of the 1 oz. American Buffalo Silver Round is rooted in the classic design of the Buffalo Nickel, originally introduced by the United States Mint in 1913. These timeless designs, created by renowned sculptor James Earle Fraser, captured the spirit of the American West and quickly became beloved symbols of American coinage. In recent years, private mints and refineries have replicated the design of the Buffalo Nickel to create the 1 oz. American Buffalo Silver Round, satisfies the demand for affordable and beautifully crafted silver bullion with a touch of nostalgia. While the round does not carry official legal tender status, its appeal lies in the historical significance of the design and its pure silver content.
Design
The design of the 1 oz. American Buffalo Silver Round pays homage to the classic Buffalo Nickel, a cherished coin minted by the United States from 1913 to 1938. On the obverse, the round features a detailed portrait of a Native American chief in profile, adorned with traditional headdresses and intricate tribal features. This iconic representation of a Native American symbolizes the heritage and culture of the indigenous people of America. On the reverse, a majestic American bison is depicted in great detail, standing on rugged terrain. The powerful and stoic bison, an emblem of the American West, symbolizes strength, freedom, and resilience.