1 oz British Gold Britannia Coin (BU, Dates Vary)
Credit / PayPal / Venmo
$2,078.79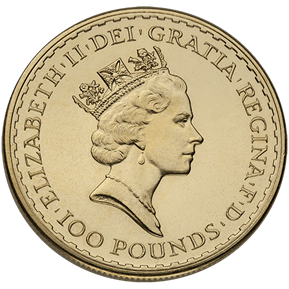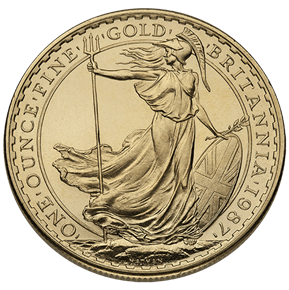 Introduction
The 1 oz. British Gold Britannia, in Brilliant Uncirculated (BU) condition,  is a prestigious and highly sought-after bullion coin. This coin quickly gained popularity for its stunning design and high gold purity, making it a favorite among investors and collectors alike. Struck in 999.9 fine gold, the coin carries a face value of 100 pounds, although its true worth is determined by the prevailing gold market prices. With its exquisite design, purity, and historical significance, the 1 oz. British Gold Britannia continues to be a remarkable and valuable addition to any precious metal portfolio.
History
The history of the 1 oz. British Gold Britannia dates back to 1987 when it was first introduced by the Royal Mint in the United Kingdom. The coin's creation was a response to the growing demand for a new British bullion coin, as the Gold Sovereign was primarily considered a circulation coin. The concept of the Britannia was to revive the iconic image of Britannia, a symbol of British strength and national identity, which had been featured on British coins since the Roman era. Over the years, Britannia's design has undergone subtle changes, with different renditions and security features to enhance its appeal and authenticity.
Design
The 1 oz. British Gold Britannia boasts a captivating and timeless design that pays homage to the spirit of Great Britain. The obverse features the effigy of Her Majesty Queen Elizabeth II, an elegant portrayal of the reigning monarch. Encircling her portrait are inscriptions of her name and the coin's denomination, reflecting the official status of this legal tender. However, it is the reverse of the coin that truly captivates with its iconic representation of Britannia. Depicted as a powerful and majestic figure, Britannia stands tall and proud, donning a Corinthian helmet and a flowing gown that symbolizes the sea. On one hand, she holds a trident, signifying her dominion over the oceans, while on the other hand carries a shield, representing the country's unyielding strength and protection. The background showcases the vast seas, further emphasizing Britannia's maritime influence. Finely crafted with intricate details and minted in 24-carat gold, the British Gold Britannia exudes a sense of national pride and holds a prominent place in the world of bullion coins, captivating collectors and investors alike with its rich symbolism and artistic excellence.