$2 1/2 Liberty MS64 Certified


.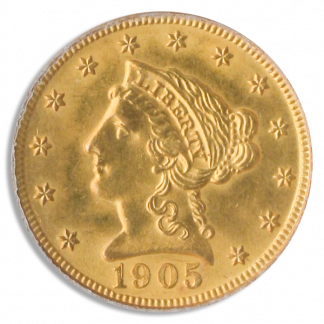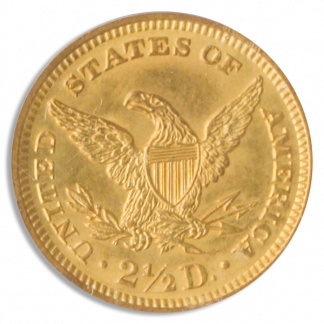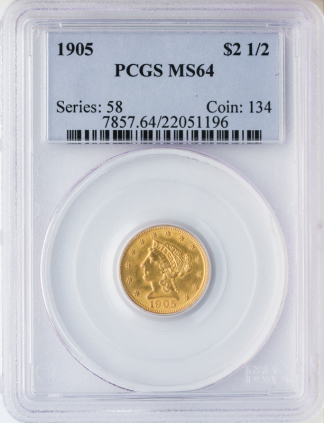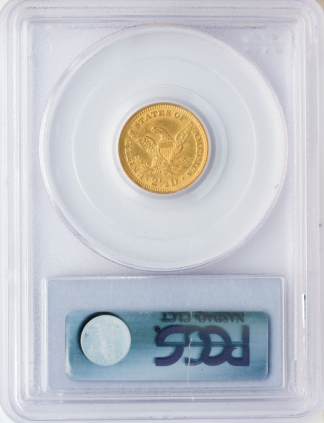 This later version of the Liberty Head Quarter Eagle has a more feminine Miss Liberty facing left, wearing a coronet with LIBERTY in relief. Her hair is in a bun tied with a string of pearls, below her is the date, and surrounding her are 13 stars. The design is very simple and very pleasing. The reverse still resembles the design used since 1808. The size of the letters and numbers differ a bit, but it still retains the same basic devices. Like its Classic Head predecessor, this version does not have the motto E PLURIBUS UNUM displayed.
The Classic Head Type was a stopgap measure meant to put gold coins back into circulation. It was a tremendous success, but was never intended to be a long-term design. The Mint wanted a symbol of Liberty befitting a growing, prosperous nation, and a rehash of the 1808 Large Cent simply would not suffice. Christian Gobrecht had created a new design for the gold eagle in 1838. That design was well received by all and was adapted to the half eagle in 1839 and then the quarter eagle in 1840. It was felt the design would stand the test of time and also bring uniformity to all three circulating gold coin denominations.
The Liberty Head Quarter Eagle has the distinction of being one of the the longest-running coin Type without a major change in its design in the history of American numismatics. This coin remained the same for 68 years. Unlike half eagles and eagles, the motto IN GOD WE TRUST was never added to the quarter eagle. Within this incredible lifespan are found a number of major rarities to entice the collector. The rarest Liberty Head Quarter Eagles are usually the pre-Civil War, low mintage pieces from the southern Mints, Charlotte and Dahlonega. Other major rarities are those from Philadelphia minted between 1863 and 1877. Coins minted in 1873 are an exception, as mintages in 1873 were abnormally large.