$20 Saint Gaudens BU (Dates/Types Vary)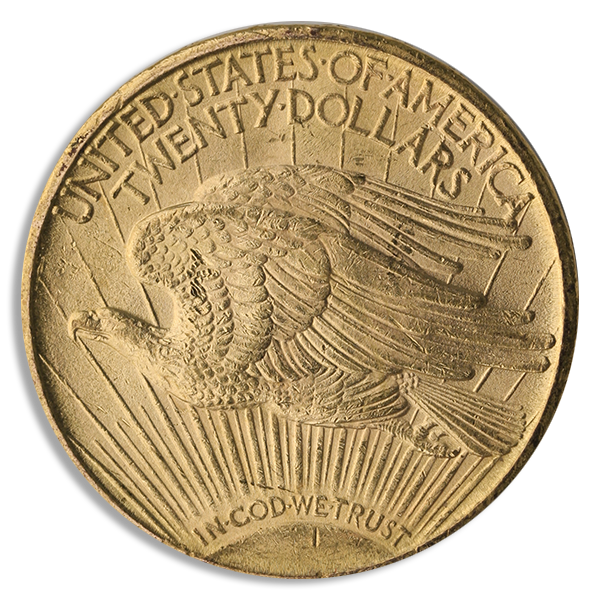 Introduction
The St. Gaudens Double Eagle is widely regarded as one of the most magnificent and revered coins in American numismatic history. The $20 Saint-Gaudens, struck in .900 fine gold with a weight of 33.44 grams (approximately 0.9675 troy ounces), stands as a timeless masterpiece of American coinage artistry, revered for its stunning design and historical significance. Its unmatched beauty and rich symbolism have made it a sought-after and cherished treasure among collectors and investors, encapsulating the nation's ideals and aspirations in a tangible and precious form. The coins are designated as BU, which stands for "Brilliant Uncirculated," indicating that they are in pristine condition, exhibiting no wear or signs of circulation and retaining their original mint luster.
History
The history of the St. Gaudens Double Eagle begins in 1905 when President Theodore Roosevelt sought to revitalize the nation's coinage design. He enlisted the renowned sculptor Augustus Saint-Gaudens to create new designs for the $10 and $20 gold coins. Unfortunately, Saint-Gaudens passed away in 1907 before the designs were fully realized, but his assistant, Henry Hering, and Mint engraver Charles Barber worked to bring his vision to life. St. Gaudens Double Eagle was minted from 1907 to 1933. It became a symbol of American pride and artistry, admired for its exquisite design and superior craftsmanship. Due to the Great Depression and the government's decision to abandon the gold standard, production of gold coins ceased in 1933, making the St. Gaudens Double Eagle one of the last gold coins struck for circulation. Today, the coin remains highly prized by collectors and investors for its historical significance, stunning design, and status as a true representation of American numismatic art.
Design
The design of the St. Gaudens Double Eagle is a true masterpiece of American numismatic artistry. The obverse features a powerful and dynamic representation of Lady Liberty, depicted in full figure and striding forward with a torch in one hand and an olive branch in the other. She is surrounded by rays of sunlight, symbolizing enlightenment. The reverse showcases a majestic bald eagle in flight.
Comparison Chart