This coin is heavy and large, and it has eight sides.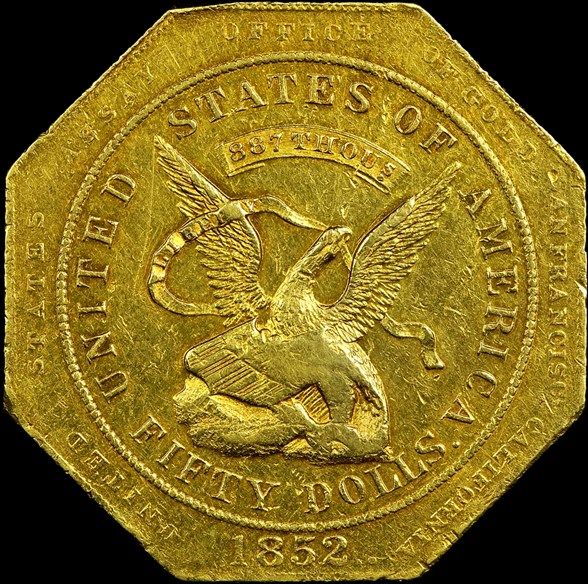 Its face value is $50.
One side doesn't have a portrait, Lady Liberty, or anything else you might expect on a numismatic rarity. No, it has a pattern, created through a process called "engine turning."
It's an odd coin. You might even call it weird.
Take a look at the eagle. It's a bit scrawnier than our modern numismatic eagle, and it's holding a ribbon in its mouth.
This is an unusual coin indeed.
Often called a "slug," the 1852 Assay Office $50 gold coin is a heavyweight in the world of American numismatics. Only 23,800 were minted, and they were minted when the Gold Rush was in full swing. When you hold this coin, you can almost imagine a gold miner, a buccaneer, or a cowboy slapping it down on a counter for a big purchase. This coin, in fact, would have been a week's wages for a gold miner.
Few of these 8-sided coins survive today because many were minted down later, when the San Francisco Mint started operations.
This U.S. Assay coin was minted before there was a West Coast Mint at all. Thanks to the Assay Office, gold like this no longer had to be shipped to Philadelphia on dangerous, bandit-ridden journeys for minting.
These $50 gold slugs were so popular and evoked such a romantic period in American history that facsimiles were later made for state expos and centennials.
1852 Historical Events Timeline
March – Uncle Tom's Cabin Is Published
Harriet Beecher Stowe's anti-slavery novel sells 300,000 copies in only three months and so informs public opinion that Abraham Lincoln reportedly says, upon meeting Stowe, "So this is the little lady who made this big war." In 1863, when Lincoln announces the end of slavery, Stowe dances in the streets.
May – Calamity Jane Dies
Raised in a Gold Rush town, Calamity Jane had a fondness for menswear and adventure. A hard drinker and carouser, she attracted attention for stunts like riding a bull down the main street of town.
July – Congress Authorizes the San Francisco Mint
Congress approves legislation authorizing a second U.S. Mint, and the Treasury Secretary chooses San Francisco for the location. This allows gold from the California Gold Rush to be minted locally, rather than transported on dangerous journeys to the Philadelphia Mint.
December – Emma Snodgrass Is Arrested for Wearing Pants
Emma Snodgrass, 17, is the daughter of a New York City police officer. She shows up in Boston wearing pants, is arrested and sent home to her father, and does it again. And again. And again. Snodgrass becomes national news.