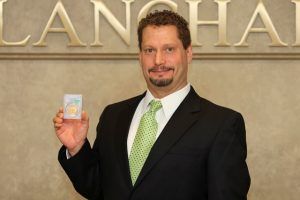 David Zanca
Senior Portfolio Manager
dczanca@blanchardgold.com
888-443-2843
David Zanca began his career with Blanchard and Company twenty five years ago. Over the years he has assisted all types of clients, from well-known ultra-high wealth individuals to the casual collector/investor. David has also assisted several high net worth family offices with their investments in gold and rare coins.
During his time at Blanchard, David has traveled the country visiting personally with clients, attending major coin conventions and auctions, including attending, by invitation, the auction of the 1933 $20 St. Gaudens which sold for over $7.5 million.
David will be happy to use his knowledge and many years of experience to assist you in building and preserving you and your family's wealth by developing a personalized investment strategy using gold and rare coins.