1857 $1 SS Central America 1.5 Grams Gold Nuggets
Price
Call for price --

1-800-880-4653


.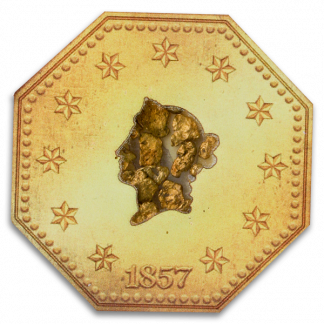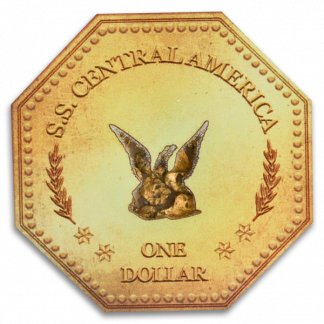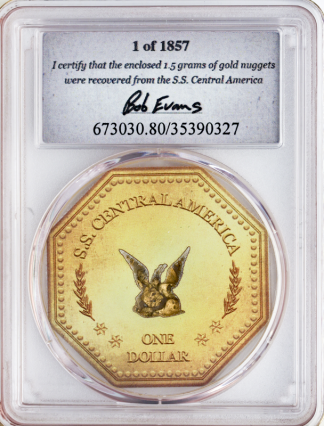 In the mid-nineteenth century, the siren song of gold called from California to every corner of the country. Across the country, people sold their possessions, borrowed money, and spent their savings to get themselves to the promised land. And when they set out, they faced perilous journeys: overland across mountain ranges or by sea around Cape Horn in South America.
Just as dangerous was the trip back, carrying gold to the East Coast. One ship that regularly made that journey was the S.S.Central America, a 280-foot, wooden-hulled steamer that operated continuously on the Atlantic leg, from Panama to New York, of the route.
When the S.S. Central America sank in 1857, its loss was felt around the world. The shipwreck was as famous as the Titanic in the twentieth century. And the loss of the ship's wealth contributed to the Panic of 1857, a depression felt around the world. In all, the treasure that sank was worth $2 million in 1857, or $300 million today. In 1988, a team using a remotely operated vehicle discovered the ship 160 miles off the coast at a depth of 7,200 feet. Gold estimated to be worth $100 million to $150 million was recovered.
Part of that recovery included gold nuggets. Our S.S. Central America nuggets total 1.5 grams of gold that have been slabbed and certified.