1889 $1 Gold NGC MS65 CAC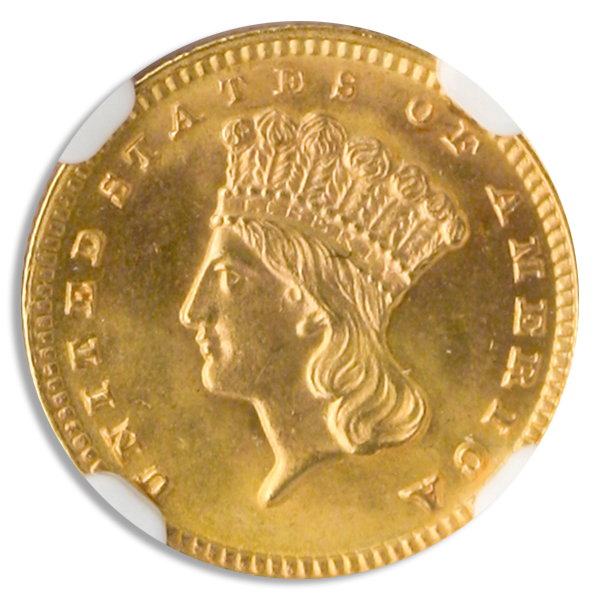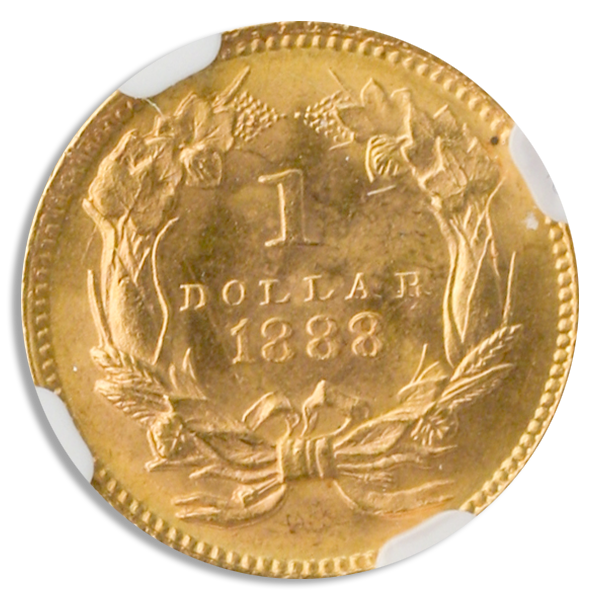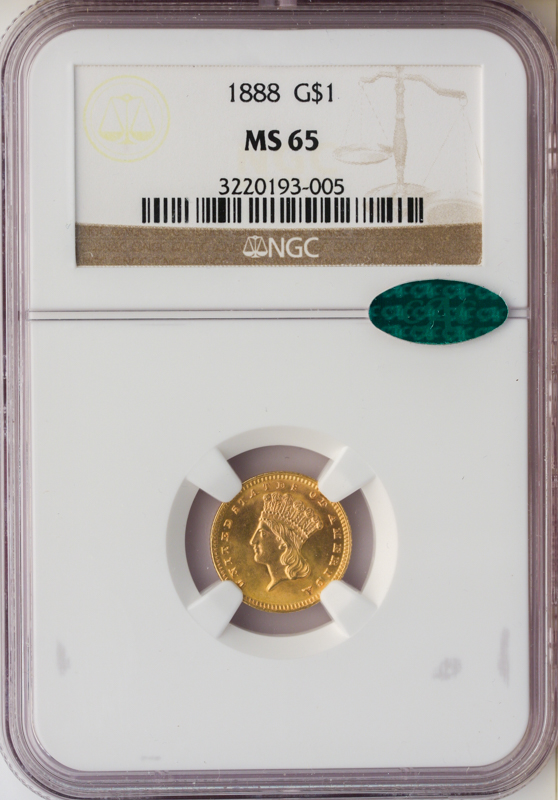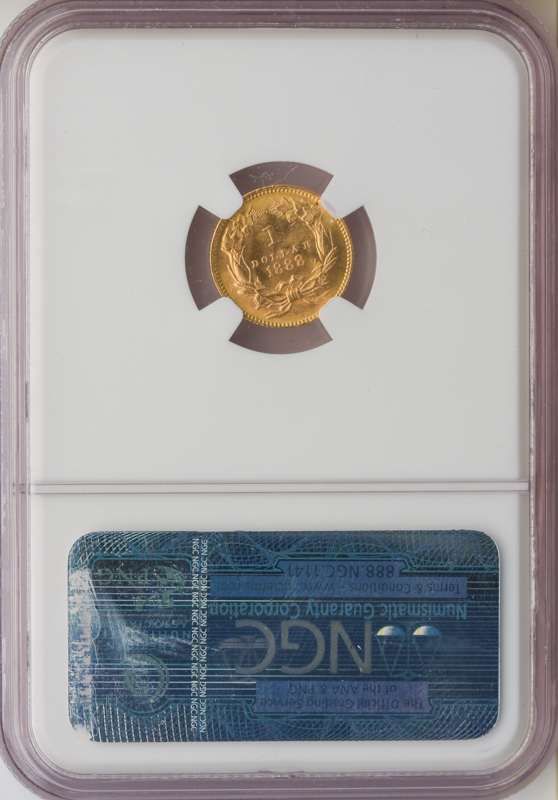 The 1889 $1 Gold coin, graded NGC MS65 and adorned with the prestigious CAC label, showcases the intricate design and historical significance of a bygone era. Its impeccable condition and CAC endorsement elevate its desirability, making it a prized addition for collectors and admirers of American numismatic heritage.
The obverse of this coin is quite simple, with Liberty facing left surrounded by 13 stars. Her coronet is incused with LIBERTY. The reverse has the legend UNITED STATES OF AMERICA at the edge. Within a laurel wreath are the date and denomination. The mintmark is located below the wreath. Coins were minted in Philadelphia, Charlotte, Dahlonega, New Orleans, and San Francisco, all with reeded edges. The varieties in this Type are limited to the wreath design. There is an Open Wreath and Closed Wreath variety, with the difference being in how near the wreath comes to the number 1 of the denomination. The 1849-C Open Wreath variety is, without doubt, the "king" of gold dollars and is one of the rarest of all U.S. gold coins, with only four known to exist.
By diameter, this is the smallest coin ever minted by the United States. The design is rather plain, in large part due to the small size. Although very well received when issued, the tiny size led to many coins being lost. In the mid-1800s this was no small matter, as 1 dollar was a full day's pay for many Americans. Thoughts quickly turned to replacing this Type with a larger coin. In 1854, banks were ordered to return to the Mint all Type 1 gold dollars they received. The Mint would melt the coins to create planchets for the new gold dollars.
Although formally known as the Liberty Head Type, in practice all numismatists simply refer to this coin as the "Type 1 Gold Dollar". This coin is generally collected as a Type, although many build complete date and mintmark sets, minus the 1849-C Open Wreath variety.
A LITTLE STICKER MAKES A BIG DIFFERENCE.
Within each number of the coin grading scale is a small range of condition from low-end to high-end. Certified coins of the same grade can be of varying quality. Many of today's collectors want coins that are solid or premium quality for their assigned grade. CAC holds coins to a higher standard so you can be confident in the value of yours. We verify previously graded coins … and award our sticker only to those coins that meet the standard for today's selective buyer.
WHAT THE CAC STICKER MEANS:
Verified. Your coin has been verified as meeting the standard for strict quality within its grade.
Guaranteed. CAC stands behind our verification.
THE CAC STICKER IS BACKED BY EXPERIENCE.
CAC was founded by leading members of the numismatic community, including John Albanese, a respected authority on coin grading and the rare coin market.